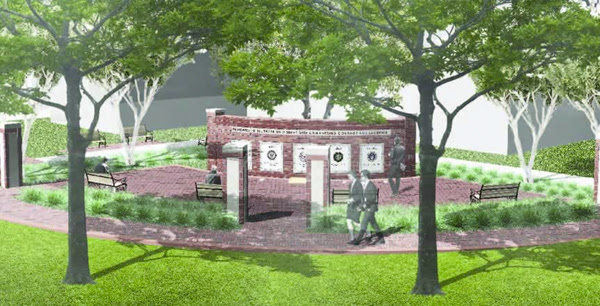 UNC Charlotte will officially open its new Veterans Park this coming Monday, Nov. 11, at 1pm.
The park was conceived by Christopher Orr '18 as a place on campus to recognize UNC Charlotte's historical connections to veteran students and to honor all past, present and future veterans who will attend or work at the University. The celebration will be hosted by the UNC Charlotte Veteran Services Office.
"By establishing Veterans Park here at UNC Charlotte, we are continuing in the recognition of our campus' dedication to aid in educating returning service members. As we did following World War II, we continue to value and celebrate the service and sacrifice of our men and women in uniform," said Bill Wilson, director of the Veteran Services Offices.
The University broke ground on the park in May, and construction began during the summer. Veterans Park is adjacent to Memorial Hall, near the corner of Cameron Boulevard and University Road. Memorial Hall houses the University's Army and Air Force ROTC programs.
The University has a rich history of serving veterans and is one of several educational institutions founded in American cities following World War II. These schools met new demands for higher education and provided unprecedented opportunities fueled by the GI Bill, which gave thousands of returning veterans historic access to higher education.
Comments
comments