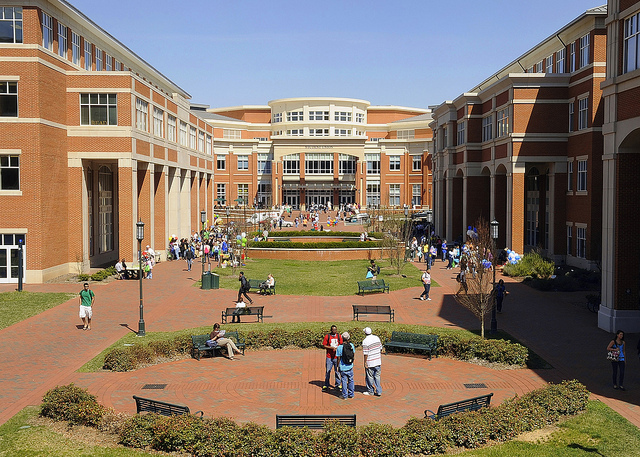 UNC Charlotte's new School of Professional Studies will harness the University's expertise in delivering high-quality and flexible online learning to become the premier choice for working professionals seeking further education to advance or transition careers or complete their undergraduate education.
Housed at The Dubois Center at UNC Charlotte Center City, the new school connects professionals to over 90 degrees and graduate certificates with more than 50 available online and 40 available in the evenings and weekends so busy adults can continue their education while working. The school also offers more than 30 professional development certificates and certifications plus many more short-form learning opportunities to help professionals advance their careers. Additional programs are in the works to help more adults complete their undergraduate degrees.
"The School of Professional Studies unites two of the University's commitments to our city and region's workforce. We are streamlining the student experience for working professionals to access our large portfolio of programs designed for busy adults through one school that collaborates with each of our academic colleges," said Chancellor Sharon L. Gaber. "Additionally, through reimagining and developing online undergraduate degree completion programs, we will further live up to our commitment to accessibility for the nearly one million North Carolinians who hold some college credits but no degree."
In addition to serving the needs of the individual learner, the school will also provide a resource for businesses and organizations seeking employee development solutions such as customized training, executive education and higher education pathways for employees.
"Just as UNC Charlotte was founded in response to the higher education needs of returning veterans of World War II, today we are meeting the growing demand for professional and continuing education options for working professionals," said Joan Lorden, provost and vice chancellor for Academic Affairs. "The Charlotte region's adult population is one of the fastest growing in the nation and we are uniquely qualified to meet the diverse education needs of working adults."
Through its collaboration with each of the University's academic colleges, the school will provide programs designed for the varied motivations, preferences and needs of adult learners such as online, weekend and evening programs. The school will support an array of programs including undergraduate degrees, graduate degrees and certificates, skills-based boot camps, noncredit certificates and certifications, and short-form professional development courses. Additionally, through the school's easy access along the LYNX light rail line, working professionals will be connected to UNC Charlotte's main campus for access to its 3.8 million volume library, student labs and other resources.
"For today's working professionals, education has shifted to 'just in time' rather than 'just one time,'" said Asher Haines, executive director of the School of Professional Studies. "A foundational college experience is the starting platform for a successful career, and adults will need to step on and off this platform multiple times for continuing education and training as they advance in their jobs or switch careers. The School of Professional Studies is here to connect people to the right UNC Charlotte programs at the right time for their personal and professional growth and transformation."
The school is powered by UNC Charlotte's Center for Teaching and Learning (CTL) and Audiovisual Integration and Support for Learning Environments group (AISLE) to develop online and blended learning experiences, enabling adult learners to successfully continue their education while balancing work and personal commitments.
Comments
comments