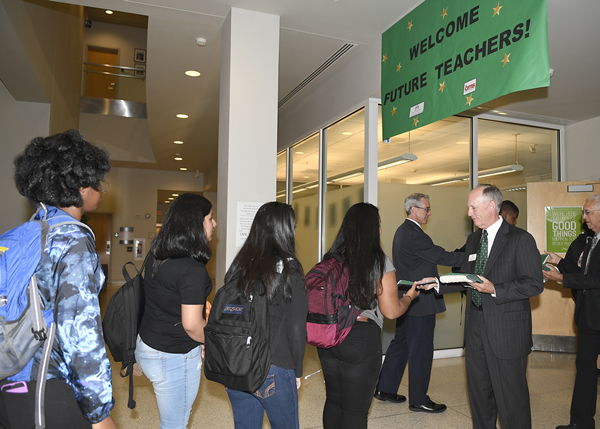 UNC Charlotte Chancellor Philip L. Dubois welcomes Charlotte Teacher Early College's first students.
This fall, Charlotte-Mecklenburg Schools and the University of North Carolina at Charlotte are partnering to launch an early college high school program that prepares Charlotte students to be the city's next wave of teachers.
On Aug. 7, 50 students were welcomed into the inaugural class of Charlotte Teacher Early College. This five-year program offers a mix of high school and college courses for students interested in education careers.
All CMS high school freshman are eligible for the program. According to UNC Charlotte, CTEC students will complete two years of high school classes, then take free college courses for their intended field. During their study, students will get hands-on training interning at urban high schools.
CTEC students will graduate with a high school diploma, a Certificate of Advanced Standing in Education and a minimum of 60 hours of course credits towards any North Carolina public college.
The Early college is a part of a growing trend of specialized programs showing up across the country. It was designed to fill North Carolina's need for well-trained teachers. The Charlotte Observer reported that days before the Aug. 28 start of school, there were still teacher vacancies to fill, though that has improved since last year.
The program comes after the success of Charlotte Engineering Early College, another early school which opened in 2014. CEEC provides STEM classes for students entering engineering, and energy and sustainability jobs. Last semester, 75 junior CEEC students averaged a G.P.A of 3.2. Both programs are held in the Cato College of Education.
Although early in development, UNC Charlotte plans to build a CMS high school on the main campus using private and state funding. The new school would house the programs at a facility close to the campus football stadium.
For more information visit Charlotte Teacher Early College's website, or got to  Charlotte Engineering Early College's   site to learn about their classes.
Comments
comments