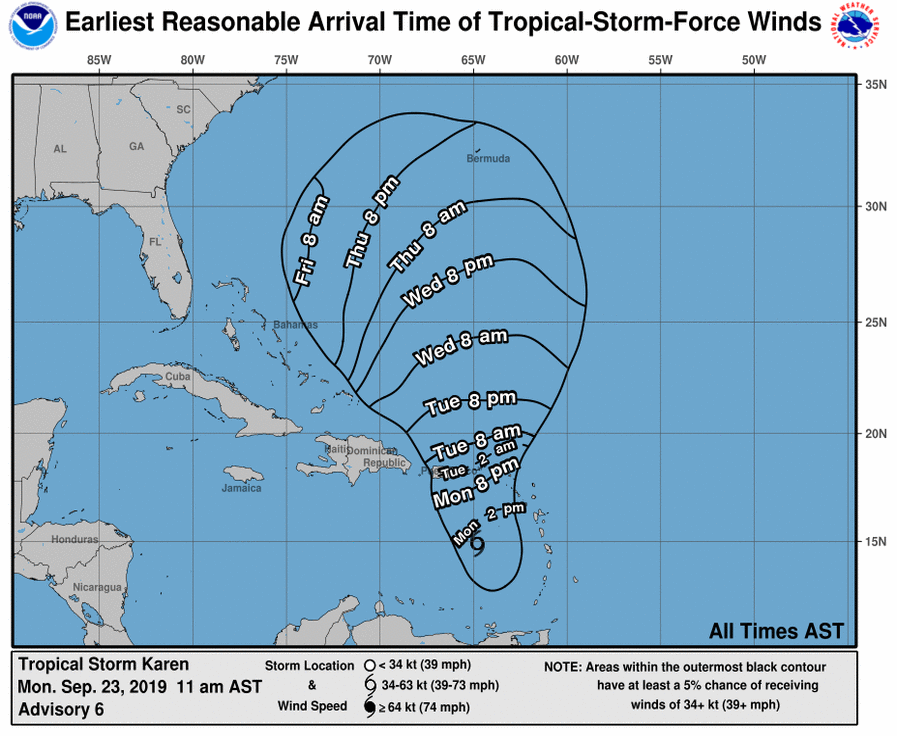 Tropical Storm Karen is now showing possible signs of affecting the Carolinas this weekend into early next week.
The storm is currently forecast to stay weak until it moves past Puerto Rico Tuesday night. It is then forecast to strengthen as it enters the open waters north of the Caribbean.
According to the latest outlook by the National Hurricane Center:
"Despite the overall lack of organization of the system, the track guidance 
is still in good agreement on Karen turning northward tonight or early Tuesday 
into a weakness in the ridge over the western Atlantic caused by
Tropical Storm Jerry to its north.  After 72 hours, a deep-layer
ridge is forecast to build over the southeastern United States and
western Atlantic which should slow Karen's northward progress"
After 72 hours, the storm is predicted to either stall or push due west into the southeastern seaboard of the United States.
According to the Miami Herald, Karen is forecast to be near hurricane strength by the start of this weekend, with "maximum sustained winds near 70 mph".
We will update this article as Karen develops. 
Comments
comments