Tropical Storm Chris, now located just off the coast of North Carolina, is about to turn into a hurricane later today, according to the National Hurricane Center.
According to their official alert;
"Maximum sustained winds are near 70 mph (110 km/h) with higher
gusts. Chris is forecast to strengthen into a hurricane later
today when it moves over warmer waters, and some additional
strengthening is expected through Wednesday night. Chris is forecast
to become a strong post-tropical cyclone by Thursday night or early
Friday.
Swells generated by Chris are expected to increase and affect
portions of the coasts of North Carolina and the mid-Atlantic states
during the next few days. These swells could cause life-threatening
surf and rip current conditions."
Hurricane Chris is projected to travel East across the Atlantic, reaching Scotland at about the same time as President Donald Trump;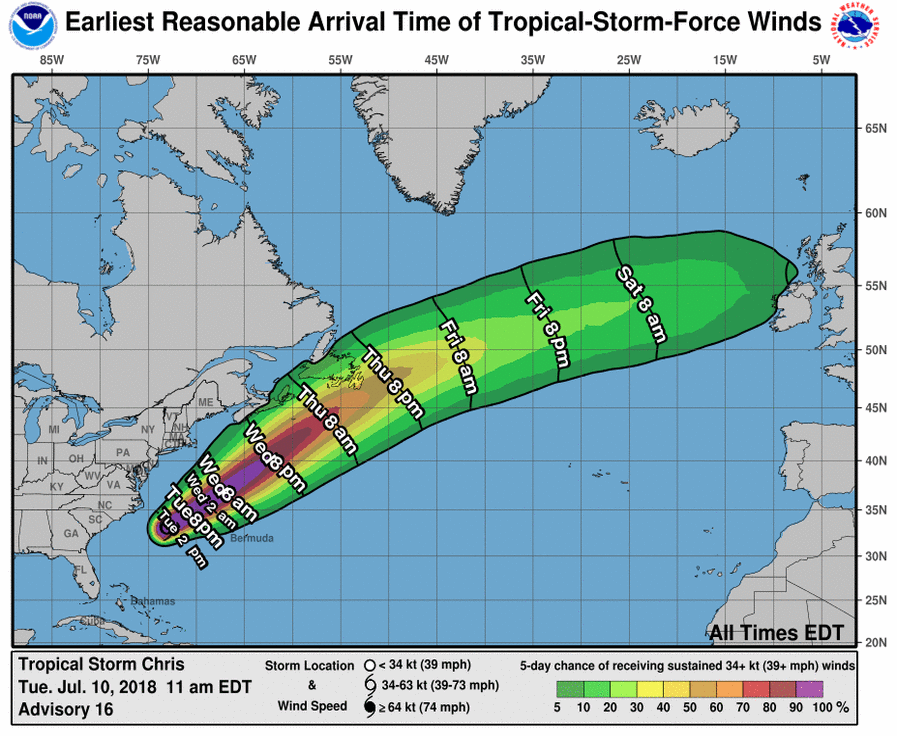 While it's unlikely that Chris will turn back toward North Carolina over the next few days, we are now officially in hurricane season and the National Hurricane Center is recommending all coastal residents be prepared.
If you live anywhere near the North Carolina coast, you should have your safety plans reviewed and become familiar with local evacuation routes, and continue to watch new storm developments at NHC.NOAA.Gov.
You should also make sure your hurricane supply kit is stocked and ready to use in case of power lose or flash flooding.
Duke Energy recommends the following items (available via 2-day shipping on Amazon.com if your local store has already been cleaned out);
Cash (ATMs may not work)
Car charger for cell phones and other devices
Clean drinking water (recommended 1 gallon per person per day, minimum three days)
Batteries: Extra batteries for all of your devices
Comments
comments