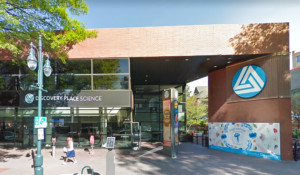 Celebrate the official first day of summer by going back 50 years as the Museum celebrates the Summer of '69 at its adults-only Science on the Rocks event on Friday, June 21.
Guests are invited to wear their "most rad" outfits and take part in a retro costume contest. They will also be able to make their own friendship bracelets as well as Makey Makey musical instruments out of fruits and vegetables. Plus, learn what your love language is and take a shot at tongue twister – unwrapping a candy using only your tongue. Far out!
The featured drink at this month's event is the Age of Aquarius. Food available will include Hippie Wings, Tie Dye Fries, a Moon Landing Hummus Plate and The Beatles Chicken Salad Sandwich. You will also options for dessert – The Woodstock cupcake or a Boeing 747 Margarita cupcake.
The event is Friday, June 21, from 5-9 p.m. at Discovery Place Science. Tickets are $12 in advance and $14 at the door. Guests must be 21 or older.
Comments
comments