NC transit planners are now asking for the public's feedback in the development of a long-awaited new bridge between Mecklenburg and Gaston County.
The cost of the project is currently estimated to be around $200 million. The Transportation Planning Organization (TPO) of Gaston, Lincoln and Cleveland counties would pay around 60%, and the CRTPO of Mecklenburg, Union, and Iredell counties would be responsible for funding about 40% of the project.
According to the current plan, the project would run "between NC 279 (S. New Hope Road) in southeastern Gaston County to NC 160 (Steele Creek Road) in western Mecklenburg County". It would include new bridges over the South Fork Catawba River and the Catawba River, as well as a new interchange with I-485 south of the existing West Boulevard interchange in Mecklenburg County.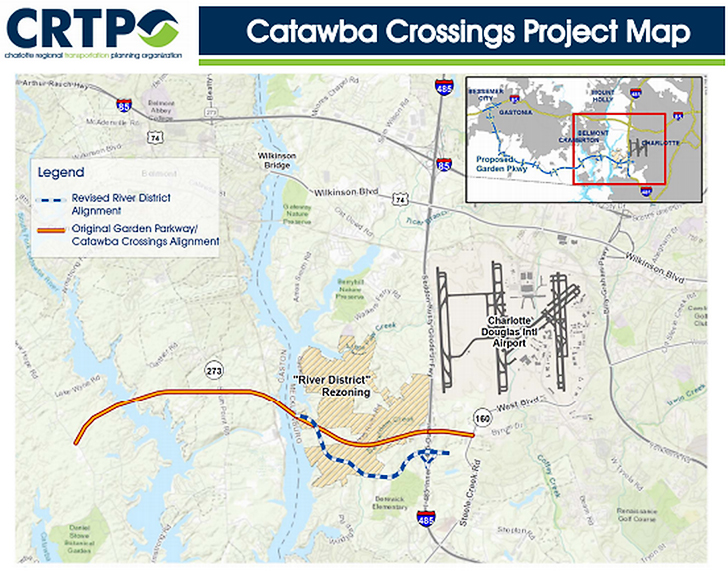 Currently, there are only really two main roads that connect Charlotte with Gaston County – I-85 and 74 (Wilkinson Blvd.), which will usually both become backed up for miles during rush hour.
The N.C. Office of State Budget and Management expects the total population of Gaston County to increase by 9.1% between 2020 and 2030.
If you'd like to give your input about the new bridge to Gaston County, you can attend an upcoming open house on February 2nd from 4:30pm – 7:30pm at the Gaston College Auditorium, or you can submit your comments online here.
What do you think about the new bridge? 
Comments
comments