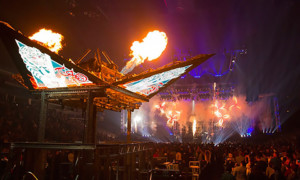 The Trans-Siberian Orchestra, now one of the world's most famous progressive rock bands, is heading to Charlotte on December 7th for an epic Christmas performance.
The band originally gained in popularity when they began touring in 1999 after completing their second album, The Christmas Attic the year previous. In 2007, the Washington Post referred to them as "an arena-rock juggernaut" and described their music as "Pink Floyd meets Yes and The Who at Radio City Music Hall." They've already sold more than 10 million concert tickets and over 10 million albums worldwide.
This year's tour is called "Christmas Eve and Other Stories"- an experiment to take something conceived for TV and try to express it live on stage. They will be integrating segments of the TV show, with a live narrator, and full rock band.
Here's a sneak peak at what's in store in Charlotte on December 7th:
They will be performing at the Spectrum Center on December 7th starting at 3 pm.
For tickets or more information click here.
Comments
comments