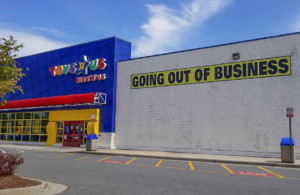 According to a new press release sent out yesterday, Toys "R" Us and all of its subsidiary companies are being acquired by a group of investors led by an entity entitled 'Geoffrey, LLC'.
The announcement was made after a 5-month long marketing campaign to sell Toys R Us' assets and branding.
The press release noted that the new "Geoffrey, LLC, as reorganized, will control a portfolio of intellectual property that includes trademarks, e-commerce assets and data associated with the Toys "R" Us and Babies "R" Us businesses in the United States and all over the world, including a portfolio of over 20 well-known toy and baby brands such as Imaginarium, Koala Baby, Fastlane and Journey Girls. The reorganized company will own rights to the Toys "R" Us and Babies "R" Us brands in all markets globally, with the exception of Canada."
Yesterday at the Dallas Toy Preview, the Geoffrey mascot was spotted walking around with a "back from vacation" cape on;
According to their toy show profile, Geoffrey LLC will now be operating under the name 'Geoffrey's Toy Box' as a "Wholesale toy distributor and intellectual property company whose focus is on popular play patterns across trusted brands that kids and parents love. Geoffrey's Toy Box is a fully outfitted organization with design, development and global sourcing expertise. Portfolio includes popular brands like Journey Girls, Fastlane, True Heroes, You & Me, Imaginarium, Just like Home and more!"
Geoffrey's Toy Box will launch consumer locations across the country this coming November as a "shop-within-a-shop" concept, initially partnering with "a prominent Midwest retailer."
What do you think about the new wholesale toy concept? 
Comments
comments