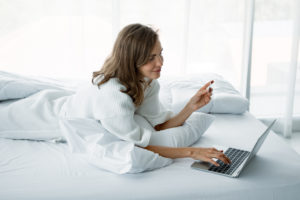 More and more people are shopping online more and more. In big cities, people are even able to buy highly perishable goods like milk, eggs, bread, and other groceries online. Although most of us will continue to buy groceries in-person for many years to come, we'll continue buying an ever-increasing amount of non-perishable goods online. 
Even though we have tons of tools to save money while shopping online, many of us fail to take advantage of them. In turn, these neglectful habits lead us to pay far more for goods than we should. Here, we've compiled several easy-to-follow tips for saving money while shopping online.
Use Coupon, Voucher, and Promo Code Aggregators
The World Wide Web is full of websites that aggregate coupons for digital retailers. Although some of these sites hunt down online storefronts' coupons and promo codes by hand, most of them use apps and programs that automatically collect such information. This automatic collection allows these aggregators to drum up money-saving codes that you otherwise wouldn't have had access to.
Shopback, for example, is one of the internet's leading coupon code aggregators. It offers up to 15% cash back vouchers from Lazada when you purchase products from dozens of stores, including Estee Lauder, Sonos, Logitech, and Dettol flagship stores. 
Don't Let Retailers Use Your Data Against You
Assume that you like window shopping for a certain brand of clothes. As you might already know, online retailers, social media platforms, and websites collect this data and use it to market products that other like-minded shoppers have bought. 
These retailers can also use this data to charge more for their products. This surprisingly common strategy, known as dynamic pricing, uses browsing habits, spending patterns, product demand, and location to adjust products' prices. 
Just to be sure, you should use fully anonymized browsers like Tor when making online purchases to keep retailers from using dynamic pricing against you. Log out of all your accounts, including email, social media, and store accounts. Also make sure to clear your browser's cookies.
Another trick you can use to get better prices while shopping online is to set your location as a developing country — not an already-developed, wealthy country such as the United States including using the Home Depot promo code.
Talk to Customer Support Before Pulling the Trigger
Oftentimes, it seems like customer support representatives aren't as helpful as we'd like. Rarely, however, do we contact live chat agents before making purchases. If anything, we tend to reach out to customer support when we experience post-purchase problems such as shipping delays or receiving damaged goods. 
Try reaching out to customer support before buying whatever you're shopping for. Ask them several questions about a product you're thinking about buying. After showing interest, sneak in a question about product pricing — if you do it right and have Lady Luck on your side, you'll walk away with a secret in-house coupon code that gives you a discount.
In many cases, these discounts work in conjunction with any other codes you've applied, giving you even more savings upon checkout. 
Comments
comments