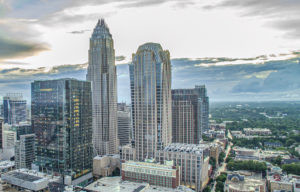 Charlotte is North Carolina's biggest city and is names in honor of King George II. The city center, known as Uptown boast loads of restaurants, shopping malls and attractions for you to see when visiting the city. It also reflects on its rich past and history with amazing museums and is a favorite among racing enthusiasts for its vivid history in Motorsports, with speedways, racing schools and much more.
Here are some of the top attractions to visit when you are in Charlotte.
NASCAR Hall of Fame
 The number one spot for NASCAR and motorsport fans alike. Here you can see legendary cars such as a 1952 Hudson Hornet alongside galleries that pay tribute to NASCAR Hall of Fame inductees. There is also a theater with surround sound showing classic races, how teams prepare on race day and other exhibits on a huge 64-foot-wide screen. 
Carolina's Aviation Museum
A great place for technology and aviation enthusiasts, the Aviation Museum takes you on a tour through the evolution, the history and the technology of aircrafts. Aeroplanes and helicopters throughout history are on display alongside some private collections. Check out the planes used in both World Wars, such as Sopwith Camel bi-plane, one of the most used planes by the British army in WWI. 
There is also an outside display of aircraft with can be visited if the weather is adequate. It includes the 1999 Airbus A320-214, which made a stunning landing after its engines failed due to a flock of geese.
Paramount's Carowinds
Carowinds is an amusement park for all ages, and great for those seeking thrills. With everything you expect from a top amusement park, including roller coasters, water parks and exhibits, it a place where the whole family will have fun. They also have a dinosaur exhibit with amazing animatronics to guide you through history. Alongside the amusement park is the waterpark, Boomerang Bay, so if you are visiting in summer, make sure to pack your swimming gear!
Discovery Place
An ever-changing museum that allows visitors to see, hear and feel science. With hands-on participation in every exhibit, this is a place were all ages can have a good time and learn about the world around them. Participate in experiments, learn about physics and there is even a chance to create your own stop-motion video. Furthermore, kids under 7 can learn and have fun with KidScience, a space design for little visitors.
Visiting Charlotte
This is a small sample of all the exciting things you can visit while in Charlotte. There are many more museums, parks and gardens you can visit that will be fun for the whole family. A rich history is shown in various museums, whether it be history, art or motorsports.
Some of these attractions may have long lines, as they are very popular. But don't worry, as you can always play some free online slots while you wait in line.
So, come and enjoy Charlotte, enjoy North Carolina!
Comments
comments