Give Dad a Father's Gift He'll Never Forget!
Father's Day gift-giving can be especially challenging – after all, how many ties can one man wear? Luckily, research shows that people value experiences more than material items, and Dad is no exception (yay, science!). So ditch the "World's Best Dad" mug, and check out some of the options below to give your dad a Father's Day in the Queen's City that he'll never forget!
Does your dad have a need for speed? Put him in the front seat of a NASCAR racecar with the Richard Petty Driving Experience at the Charlotte Motor Speedway. Dad can experience the thrill of a 600 horsepower engine at 160 miles per hour for 3 or 8 laps (4.5 to 12 miles). These spots fill up quickly, so be sure to make your reservation in advance!
Go ahead, Dad…treat yo'self! A day at the spa can still be manly, especially at Emerson Joseph's. Offering hot towel barber services, massages, straight shaves, facials and more (along with complimentary beers), Dad can relax in style. Let him choose his own services with a gift card, or sign him up for a specialty package that combines a full service haircut, massage, and spa services (we recommend "Man of the Year," but Dad would probably be OK with the "Ata Boy" package, too).
For the dads who just want to relax, try some new beers, and learn a little bit about the craft beer scene in Charlotte, look no further than Charlotte Brews Cruise. These guided tours visit 3 different breweries around the Queen City, and give dad a chance to try over a dozen different beers – from light refreshing tailgating beers to bourbon barrel-aged stouts and everything in between. Best of all, the experienced guide is also the designated driver, so he can truly relax and enjoy the ride. Dad will want to bring his friends (and maybe his kids, if you're nice), so check out their private tour options if the public tours fill up!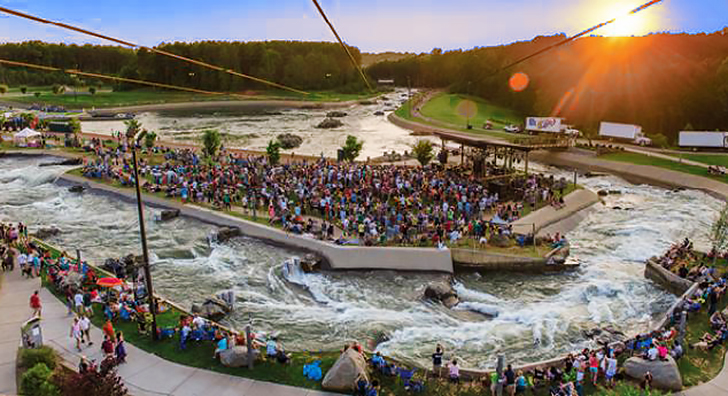 For the dad who can't get enough of the great outdoors, the U.S. National Whitewater Center offers activities for all levels of adventurers. A day pass lets Dad choose between 29 different activities for a day, from whitewater rafting to canyon jumps, and everything in between, or you can schedule a tour for a 3-4 hour rafting and canopy adventure. Think he'll need more than a day? Season passes are also available, so he can access all the activities the center has to offer until the end of the year!
Does your dad love water? If he appreciates fishing, lounging, water slides, and relaxing on the sad, you might want to take him to Myrtle Beach for the weekend.
Water is the main attraction at Crown Reef Beach Resort and Waterpark. The resort's oceanfront water park features two four-story slides, a Salty's Splash House with kiddie slide and silly sub, and other ways to make a splash. You can also swim in the heated outdoor pools or lounge in the jetted tubs for some relaxation.
Does your dad love to relax on the water and hates to drive?
Lake Norman Marina is currently offering a great father's day deal on a pontoon boat rental for the whole family.
If you want to have a truly unforgettable Father's Day experience, why not take pops skydiving?
A 20-minute plane ride followed by a 20-second free-fall will truly be an unforgettable experience. Piedmont Skydiving is currently offering a 27% off Groupon deal.
Comments
comments