The weekend is almost here!
This weekend we'll see tons of live music, shows, and plenty of Super Bowl parties!
Here are the top 10 things happening around the Charlotte region this weekend:
This weekend the Ringling Bros. and Barnum & Bailey® Circus is performing one of their final series of shows right here in the Queen City. They'll be performing 7 times Friday night through Sunday night at the Spectrum Center in Uptown Charlotte.
Their 'Out Of This World' show features never-before-seen additions, including a full ice rink and Olympic-class gymnast routines.
Tickets are now starting at $28 each for this weekend's shows. For more info or to buy tickets click here.
The legendary cast and crew of Riverdance are coming to Charlotte this weekend to dance the night away. They'll be performing at the Oven's Auditorium Friday night through Sunday night.
For more info or tickets click here.
Historic South End's next gallery crawl is happening this coming Friday (12/2) starting at 5pm.
Charlotte Magazine recently named the South End Gallery Crawl as the "Best Artsy Place to Take a Date." Charlotte's biggest and oldest gallery crawl typically sees between 10 and 20 art galleries, design centers, and coffee shops participate, offering free food, live music, and some of the best art in the city.
For more info click here.
#4 Queen City Brewers Festival
Queen City Brewers Festival brings together most of the Charlotte-area's craft breweries, brewpubs, and craft beer focused restaurants to support ACEing Autism's mission to serve more families in the Charlotte community affected by autism spectrum disorders.
For more info or for tickets click here.
This coming Saturday, from 11am to 3pm, Rock Hill will be holding their 9th annual Chocolate Festival on Saturday, February 4th, 2017, from 11 a.m. to 3 p.m. Admission is free and there is plenty to enjoy for free at as well.
For more info click here.
Featuring performances from Scarface, 8 Ball & MJG, Pastor Troy, Mystikal, Bun B, Trick Daddy, and Juvenile, the tour will come to the Bojangles Coliseum on February 3.
For tickets or more info click here.
On Super Bowl Sunday the Lucky Dog Bark & Brew Charlotte will be hosting a fun event to help raise awareness for our cause as well as show off some adorable puppies and little pups that are up for adoption. We will have a 50/50 raffle, supply donation table, and lots of giveaways!
For more information click here.
#8 The Big Game Party
Join Cystic Fibrosis Foundation and Elevate Lifestyle for The Big Game Party for the biggest football game of the season. Look forward to having a fun filled night with friends and family while watching the New England Patriots and the Atlanta Falcons battle it out in Super Bowl 51. The event will be held on Super Bowl Sunday, February 5, 2017, from 5 p.m. to 11 p.m. at Dilworth Neighborhood Grille, located on 911 E Morehead St, Charlotte, N.C. 28204.
Fore more info click here.
Uptown Charlotte's murder-mystery dinners begin innocently enough—guests arrive to mingle amid drinks and quiet conversation. As diners munch away, a sudden death interrupts the feasting. A detective arrives to determine who the killer is, inevitably laying blame on one of the audience members. Tablemates work together to prove their innocence and find the real killer through an interactive performance full of hilarious suspects and eye-catching costumes, all the while dining on the included three-course meal and taking advantage of drink specials.
For more information or tickets click here.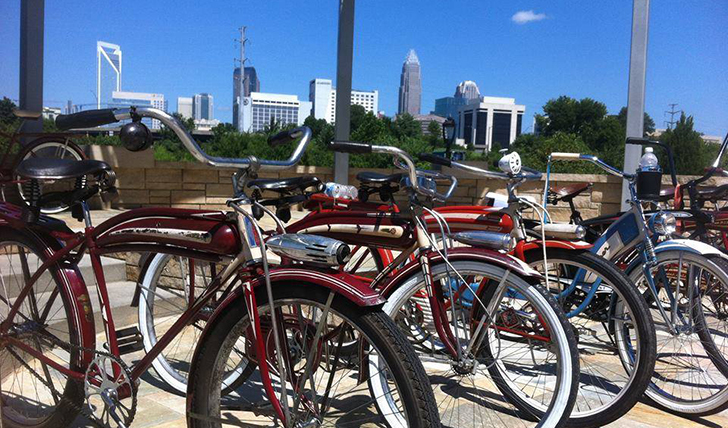 Celebrate everything Vintage Bicycles Saturday, February 4th from 8am to 1pm for the 2nd Annual Hurricane Coaster Swap n' Show Bulldog Beer and Wine (1434 Winnifred St.)
>Free admission
>Free to sell
>Indoor event
>Bike Show Categories
-Best Prewar
-Best Postwar
-Muscle 20″
-Ratrod/Custom
-Best of Show
-People's Choice
$5 per entry and cash collected will go towards the awards
For more info click here.
If you think other events should be on this list or future lists, let us know – Scott@CharlotteStories.com
Comments
comments