This was one of the hardest articles I've ever written – mainly due to the fact that every donut I tried was my new favorite. How could anyone not love every hand-made fancy donut?
I did force myself, for the sake of my readers, to get super critical and figure out which donut shop (and restaurants that make fancy donuts) was truly the best.
Without further adieu, here are the top 10 donut shops in the greater Charlotte region;
#10 Suarez Bakery (Park Rd. Shopping Center)
The Suárez family history is really what makes this specialty bakery one of the best in the city. For over 23 years, the bakery has been a true family-run staple in the ever changing Park Road Shopping Center. It's served patrons cakes, cupcakes, and other scratch made goods. Anything with their signature chocolate ganache is a must try, as well as the cinnamon twist and the old-fashioned cake options. You have to try their maple bacon bar!
#9 Foxcroft Wine Co. (Dilworth)
Foxcroft Wine Co. is an upscale wine bar in two locations, although the Dilworth one is the original. Their doughnuts have a true cult following in our city. They're served piping hot with dipping sauces such as chocolate ganache and marshmallow fluff cream.
Wine, donuts, chocolate, and fluff…what more could you want?

#8 Faith Coffee and Sweets (Harrisburg, NC)
This might be our most unknown bakery on the list, but it also might be the best – if you're into authentic, homemade, southern donuts.
If you're a "coffee snob", you have to try their salted caramel mocha.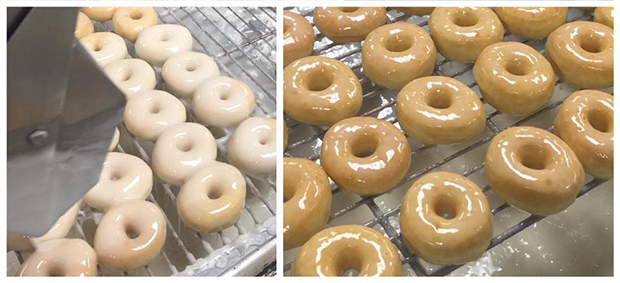 #7 Your Mom's Donuts (Matthews)
This farm-to-table concept recently opened their first retail location. The shop sources as many ingredients (dairy, eggs, fruit, flour) from the local farming community as possible. Donut flavors change weekly and seasonally. Be sure to check the online menu and beware the dreaded "SOLD OUT" listed next to a flavor. The Cinnamon Sugar with Cream Cheese Frosting is by far one of the most popular, if it's not available or if you want more than one, get the apple donut.
#6 Duck Donuts (Dilworth)
Duck Donuts is a gourmet donut shop that was originally founded in the Outer Banks of North Carolina.
All of their donuts are made to order and are always served warm and fresh. Pull up a stool and watch your donuts made right there in front of your eyes. The maple bacon is certainly one of their most unusual, and one of their most popular – a great balance of sweet and savory, and you can never go wrong with either the shredded coconut or the rainbow sprinkles as topping choices.

#5 Sugar (Ballantyne)
These are some of the cities best truly 'handmade' gourmet donuts began as the first donut food truck with truly unique ingredients such as French chocolates, fresh fruits, and exotic herbs. Some of their most recent savory donut inventions include pepper jack cheese potato and bacon "hash" filled donut and an "Egg in a Basket" (a popover with organic black forest ham, cheddar cheese, scallions, and a hard boiled egg baked into the center).
#4 Reigning Doughnuts (NoDa)
Reigning Doughnuts makes amazing donuts for events and bars all over the city and in their retail shop in NoDa.
The Maple Bacon donut will make you want to elbow people out of your way. The Peanut Butter S'mores donut will inspire you to sit alone in a quiet corner as you enjoy the rich treat in blissful silence.
#3 Carolina Donuts
Variety similar to a Krispy Kreme, but with ten times more love added to the ingredients. Go early and get them fresh.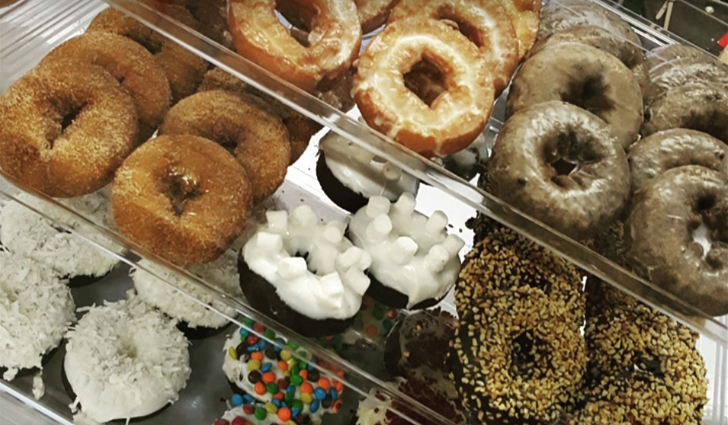 #2 MJ Donuts (Pineville)
MJ Donuts is a true no-frills classic donut shop in the heart of Pineville Here the focus is on creating homemade favorites like the double chocolate cake, the buttermilk with sprinkles, and their insane apple fritter. Don't forget the donut holes – You can get a dozen free when you order a dozen donuts.
#1 Krispy Kreme (Everywhere)
Krispy Kreme is one of the most North Carolinian eateries in the state, and it's been engrained in the Charlotte region for over 75 years. It would be a disgrace to the word donut if we didn't rank them as #1
The "Hot Now" sign lights up, and Charlotteans everywhere lose their minds.

What's your favorite donut shop in Charlotte?
Comments
comments