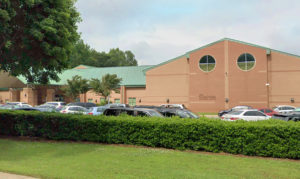 Tonight, the CMS board will vote to rename one of Charlotte's oldest elementary schools – Barringer Academic Center.
The school system first announced they would consider a name change in October of last year after they discovered that the man the school was named after was a white supremacist.
According to a press release, the school was originally named after Osmond Barringer.
"Brothers Paul B. Barringer and Osmand M. Barringer actively worked to advance ideals rooted in white supremacy. Paul became a leader in the field of "scientific" racism at the University of Virginia in the late 1800s, and Osmand was a leader in the local white supremacy club movement in Charlotte at the turn of the 20th century. Osmand also fought against the desegregation of public facilities in Charlotte in the 1950s."
The CMS board will be voting on renaming the school after one of the following black men who have made substantial impacts throughout Charlotte's history: Charles Parker, Samuel Banks Bride, or Charles Sifford.
Parker, a former slave, was instrumental in developing the community around West Boulevard. Pride, also a former slave, was the first professor at JCS University, and he help open a local high school for black students in Charlotte. Sifford is a Charlotte native who became the first African American to win a PGA Tour event in American history.
CMS will vote on the final name at Tuesday's board meeting, which starts at 6pm – you can view the agenda here.
What do you think about the name change?  
Comments
comments