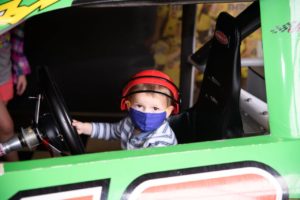 Shopping for toddler boy outerwear can be a bit of a hassle since you can't be sure what coats or jackets will pair well with your son's existing clothes. Whether you are looking for fashionable outfits ideas to mix and match with the cutest coats and jackets for toddler boys, we've got you covered.
Little Boy Cute Bear Jacket Set + Bright Color Mesh Sneakers
If you have an animal-loving family, this toddler boy bear set will be a huge hit in the house! The whole set includes 1 cozy fleece jacket, 1 bear t-shirt, and pants. And, it actually comes from our favorite place for mix and match styles. The clothes are affordable, well-designed, and made of the comfiest materials for toddlers. 
Since they've already mixed and matched this lovely outfit in advance, you can simply purchase the whole set to save time and money. Don't forget to pair it with a pair of comfy bright color sneakers to complete your little boy's new adorable look!
Ribbed Denim Jacket + Pacman Printed Denim Pants + Leather Ankle Boots
You can't go wrong when going for a whole denim set since it has always been the season's biggest trend. Also, be sure to polish off your toddler's new look with a pair of leather ankle boots and a flattering sweater for an outfit that's both comfortable and stylish.
Toddler Boy Puffer Parka + Loungewear
When shopping for casual outfits in cold seasons, you'll want to find toddler jackets and coats that are not only cozy but also can go well with your kid's everyday wear. This puffer parka is soft, snugged, and can be paired with almost anything in the line. And, for the base layer, a white long sleeve sweater and trousers with a class plaid pattern are just enough to keep him comfortable both indoors and outdoors.
Baseball Jacket + Fleece Cargo Pants + White Sneakers
Cargo pants and sneakers are a great combination for cool weather. By dressing them up with a textured sweater or shirt your little boy is sure to nail that 'rugged gentleman' vibe. However, our favorite part of this outfit is the baseball jacket which is super cozy, stylish, and durable. Plus, it's easy to get on and is a fun step-up in style to every outfit!
Hooded Jacket + Long Sleeve Sweatshirt & Plaid Pants
Well, it's super easy to mix and match things in a single color palette! That's why we always like simple and solid color clothes like this delightful fleece jacket. It not only gives you more outfit options but also makes it a lot easier for your kids to pick out their own clothes. To complete the rest of the outfit, you can choose a solid shirt or sweater followed by classic plaid trousers.
Toddler Hooded Fur Coat + Animal Top & Pants + Home Slipper
This mix and match idea is all about cuteness! Since animal print has always been one of winter's biggest trends when it comes to kids' fashion, we think this set would be a perfect casual outfit for your little one to wear at home. The outfit starts with an adorable bear hooded coat followed by a matching tiger top & pants and cat paw home slippers.
Toddler Hooded Coat with Bear Ears + Santa Claus Christmas Sweatsuit
Jingle all the way with our Christmas mix and match idea for this holiday season! The theme is super simple, you only need a Santa sweatsuit set as the base layer. Then, pair it with a red hooded coat and Christmas shoes to keep your boy extra cozy when hanging out.
Fur Lined Denim Jacket + Toddler Joggers + Light Up LED Sneakers
When it comes to winter fashion trends, it's just tough to beat a combo of fur-lined denim jackets and joggers. These two are just made to enhance every look! That's why it's a great mix and match idea that you don't want to miss for your little boy this season. The outfit is cozy, stylish, and easy to pair with any shoes. However, our favorite choice will still be a pair of white sneakers. Also, you can go for the ones with a light-up LED feature to encourage your toddler boy every time he takes a step.
Toddler Boy Striped Blazer + Bow Tie Shirt & Ribbed Jeans + Ankle Boots
There is no doubt that toddler boys just look amazing in formal outfits like a bow tie shirt and jeans. Cover it with a blazer to resemble a classic suit jacket and your little gentleman is ready for any special occasion. Don't forget to get him a pair of ankle boots to keep those little tootsies cozy and stylish!
Toddler Boy Hooded Puffer Parka + Solid Crewneck Knitted Sweater + Ripped Jeans
Knitwear is just perfect for winter and you can easily get a classic knitted toddler sweater set like this one. Thanks to its minimal design and crew neck, the sweater enhances most body types and offers top-notch comfort, regardless of what style you end up buying. Go along with this lovely sweater is a cozy puffer parka with a detachable hood to keep your toddler boy warm in case the temperature drops. Finally, simple blue or black jeans are the last pieces to complete your little boy's new winter outfit.
Tips for Mix and Match Toddler Jackets and Coats
Try Solid or Neutral Colors.

Colors like gray, black, or denim can coordinate with various tops and jackets with patterns, styles, or adornments.

Think of Color Schemes.

Don't limit your options to 1 favorite color all the way. If you want to give your son a bold statement, pair their jackets with other colors (a maximum of three for each outfit).

Don't Forget a Statement.

Let your little boy's personality shine by making a statement through prints, shout-outs, or accessories.

Get Creative.

Mixing and matching your toddler's outfits should be fun so don't take it too seriously.
No matter what style you choose for your son, remember that toddlers love soft organic fabrics like cotton as they are so safe on their delicate skin and even more comfortable to play in!
Comments
comments