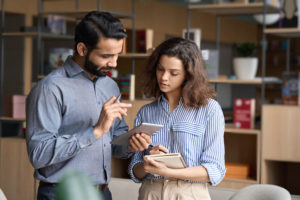 You always need to train new employees, but as a business owner, training on an ongoing basis should also be an integral part of employee development. In some industries, there are continuing education or other training requirements for certain positions, but even if this is not the case in your particular sector, a similar approach to maintaining employee competence and readiness can be helpful. The tips below can help you make the most of this.
Find Your Balance
There are some real advantages to making training an ongoing routine. First, you can keep skills refreshed, especially for those who have elements of their job that they only do on occasion. Second, you can teach more advanced skills as employees progress. Third, these sessions offer a great opportunity for checking in and clearing up any misconceptions or answering questions. Ongoing training is one of the smartest stress management tips because it keeps communication flowing and allows for a high level of transparency regarding expectations on the job. 
If you make these sessions too frequent, they can cause frustration. You might be dragging people away from work that they need to get done. Experienced workers may resent the implication that they need a lot of hand-holding to do the job. Make sure that these sessions are regular enough to be useful but do not become a nuisance for your staff. Setting training-related goals can help prevent the sense of going through the motions and can give everyone a concrete sense of what they are striving for.
Match Tools to Objectives
You need to make sure you have the right tools to accomplish your objectives. Working with software might be right for your accounting department, but if you have drivers that are part of a fleet, a hands-on approach might be more useful. Having live streaming dash cams available are one excellent way to provide training and feedback remotely on the job. You can read more about how these cameras work and the benefits of using them in the workplace. Whatever the skill is that you need to teach or review, look at how to best replicate the conditions under which employees will use it.
Employees as Trainers
To teach certain skills, you might need to bring in outside help, but there are a number of advantages to using employees to teach others as much as possible. It can save you money. It can also help more experienced employees stay engaged and prevents a situation in which they feel condescended to because of sitting through yet another training on something they are very familiar with. In addition, this can be a great way to develop and retain top talent in the industry. Training others can improve their communication, leadership, and overall management skills.
Consider Cross Training
This can be a great way to ensure that your staff is more versatile, and that people can step in if someone has an unexpected or extended absence. Surprisingly, many workplaces operate somewhat precariously when it comes to who knows how to do what. This will eliminate that risk. Cross training also helps your staff understand how other departments operate, and this information can be valuable in doing their own job.
Comments
comments