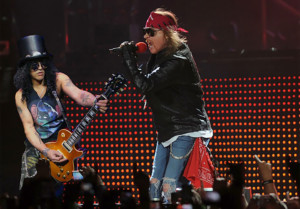 One of the world's best selling bands of all time (with over 100 million albums sold) has announced they'll be coming to North Carolina during a rare world-wide reunion tour this summer.
The Winston-Salem Journal reported that the legendary Guns 'N Roses will headline the first public concert performed in Wake Forest University's massive new football field.
The field can reportedly hold about 36,000 people.
This will be the Guns N' Roses' first performance in the Tar Heel state since its "Chinese Democracy" tour at the Greensboro Coliseum back in 2006.
It will also be the first tour that former drummer Steven Adler will be performing with the band since he split back in 1990.
Since Winston-Salem is about 80 miles away, and August 11th's show starts at 7:30, and will likely last late into the night, you may want to think about booking a hotel, unless you love night driving after having your face rocked off.
For tickets or more info about the Gun 'N Roses concert click here.
Comments
comments