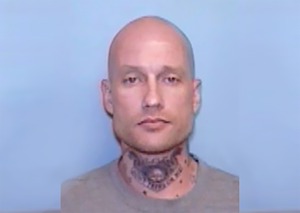 Thousands of people have been evacuated and tens of thousands more have been blocked from entering the Pisgah National Forest over the past 3 days as the manhunt for 38-year-old Phillip Michael Stroupe intensifies.
According to authorities, Stroupe robbed a man of his mountain bike at gunpoint on Saturday morning. He is also wanted for a breaking and entering investigation in Henderson County, as well as outstanding warrants in Buncombe County for kidnapping.
Stroupe has a history of resisting arrest and violence toward law enforcement and is now considered armed and dangerous.
The manhunt for Stroupe now includes several law enforcement agencies from surrounding counties. They have evacuated the forest and blocked off U.S. 276, which leads to the popular Looking Glass Falls, Sliding Rock and the Cradle of Forestry.
Yesterday afternoon, police arrested Stroupe's 62-year-old aunt, Norma Stroupe Goforth inside the evacuated area for obstruction of justice after she failed to leave the perimeter. It's unclear whether or not she communicated with Stroupe after the manhunt began.
Statement from Captain Jeremy Queen of the Transylvania County Sheriffs Department about armed suspect in Pisgah Forrest. @asheville pic.twitter.com/3gxfFPg187

— Ari Sen (@ArijitDSen) July 24, 2017
Pt. 2 @asheville pic.twitter.com/bsG3YJ3Yfl

— Ari Sen (@ArijitDSen) July 24, 2017
Pt. 3 @asheville pic.twitter.com/tpSfc8i5Wy

— Ari Sen (@ArijitDSen) July 24, 2017
If you have any information about Stroupe's whereabouts, please dial 911 immediately.
UPDATE: 7/27/2017 10:14am:
The now six-day-long manhunt just came to an end early this morning when Phillip Michael Stroupe, II, was arrested in McDowell County in a truck belonging to a missing Mills River man.
Stroupe was spotted last night at around 10:45 p.m. in Yancey County, traveling down Highway 80 into McDowell County.
Stroupe continued driving down U.S. 70 West before the truck stopped, and he escaped through a window and fled into a tomato field. Authorities from multiple counties then responded to the scene and a lengthy manhunt ensued.
Stroupe was then arrested in a field near the Riverside Mobile Home Park.
We will update this article as we receive new information.
Comments
comments