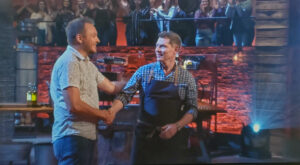 One of Charlotte's most famed chefs just took down Bobby Flay last night on national tv.
The defeat came on a show called 'Beat Bobby Flay' on which Chris Coleman, the executive chef of NoDa's Goodyear House, went toe to toe with Flay to see who could make the best chicken and rice stew.
After tasting the dishes, one of the judges said of Coleman's dish; "the rice is wonderful, the chicken is cooked terrifically, and I think the flavor of the kale is outstanding". They said Flay's dish was 'a little thick' and could have used 'some more acidity'. While all 3 judges didn't agree, Coleman ended up coming out on top.
"I just beat bobby flay and I'm super excited to be bringing home a win to Charlotte," said Coleman.
If you'd like to watch the full competition, it will be available on Amazon next week (Season 27 Episode 13).
Comments
comments