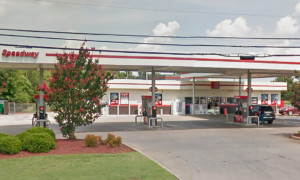 Reckless thieves broke into a Charlotte-area speedway yesterday morning and stole an entire ATM.
According to the police report, the suspects pulled their vehicle up to the front doors of the University City Speedway gas station, attached at a chain to the doors, and ripped them off their hinges. They then ran inside and loaded the machine onto their pick-up truck and drove off.
The robbery took place at 10925 University Boulevard in NorthEast Charlotte at 3:30am on Saturday morning, the broken doors, glass, and debris was still on the ground into the morning. By Saturday afternoon the doors were boarded up and the Safeway was closed for the time being.
Police are now asking for the public's help. If you have any information about the suspects, please call Charlotte Crime Stoppers at (704) 334-1600.
Comments
comments