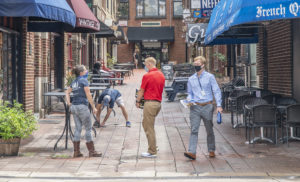 With face masks being widely adopted within society, it was only a matter of time that people began to customize their own to suit their personality and style.
But while fashion is a big part of the trend, it's also about making your day to day wearing of a face mask more comfortable.
Grab a face mask from hoorag.com and start accessorizing with anything from the following list.
Don't settle for an ugly plastic lanyard to keep your mask from falling when you pull it down.
Choose a delicate gold or silver mask chain that not only looks like it came straight out of your jewellery collection, but is also highly functional.
Attached to your face mask with a tiny clip, the transition between mask and chain is seamless to the eyes.
Ensure you remain comfortable and your mask remains free of germs while not on your face.

If you've had to wear a face mask for an extended period of time, you'll no doubt have felt how elastic straps dig into the skin behind your ears.
Otherwise known as ear savers, mask extenders are pieces of plastic that sit on the back of your head, preventing the straps from digging in.
Featuring multiple latches, they offer a flexible fit that works for all shapes and sizes.
Made from environmentally friendly PLA and coming in a range of colours, you're able to blend or pop depending on your fashion choice for the day.
Once again if you've had to wear a mask for any prolonged period of time, you'll also understand the irritation that your mask constantly slipping off your nose can cause.
Nose bridges stop this irritation by shaping the top of your face mask to your nose and ensuring a snug fit to your face at all times.
Either clipped on or stitched depending on your specific choice, we recommend choosing a product with as little seem as possible.
Add a nose bridge to your mask and you'll find you instantly stop having to adjust every 5 minutes as you go about your day.
Mask mates are a pair of soft bands that attach to your glasses in order to loop your mask straps around.
Often designed into logos or fun characters, they not only stop the face mask straps from digging into the skin behind your ears, but they look cute doing it.
If a face mask extender is too dull for you, then clip a mask mate onto your glasses and have some fun with your mask.
While mask mates are sold in pairs, remember that there's nothing stopping you from mixing and matching characters on each side.
While our item isn't exactly a face mask accessory as such, it certainly will make your face mask more comfortable.
Face balm will help protect your face from irritation, chafing and the dreaded new phenomenon… maskne!
By applying face balm to your skin in the morning before leaving the house with a face mask, you can protect your face with natural Vitamin E and Aloe.
Simply apply to your chin, cheeks and behind your ears and nose where the mask sits.
Comments
comments