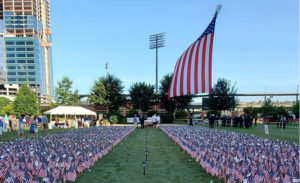 Tomorrow is the 20th anniversary of one of the most tragic days in American history – 9/11. Our country suffered the loss of 2,977 lives and saw over 6,000 others injured during the unthinkable terrorist attack.
A number of events around the Charlotte region will be honoring those we lost 20 years ago.
Tomorrow in Uptown Charlotte at Romare Bearden Park, the FF Steven Coakley Foundation will be hosting a memorial ceremony all morning. There will be a total of 2,977 flags placed on the ground – one for each life lost on that day, in the shape of the Twin Towers. The memorial will include a bell toll at prominent times of 8:46, 9:03, 9:37, 9:59, 10:03, and 10:28. There will also be a replica of the Twin Towers to sign and share thoughts, and a genuine steel beam from the World Trade Center will also be on display.
You can find out more information about the memorial here.
Tomorrow morning you can join a service held at City Hall in Rock Hill to commemorate the 20th anniversary of the tragic events of September 11, 2001. The event will begin at 8:45am.
The Charlotte Motor Speedway will be dedicating tomorrow's Charlotte AutoFair to those who died and to the first responders in memory of 9/11.
They will host a 110-story memorial stair climb to honor those who were trapped and died in the World Trade Center buildings and all first responders and military who present their police, fire, EMS, or military ID will be granted free admission to the AutoFair.
"As we approach the 20th anniversary of 9/11, we mourn with the rest of the community all that we lost," said Greg Walter, executive vice president and general manager at Charlotte Motor Speedway. "But beyond the grieving, we want to use this somber milestone to recommit ourselves to honor not only those who we lost, but all who put themselves in harms way to provide us the freedoms to chase the American dream."
You can find out more information about the memorial here.
Comments
comments