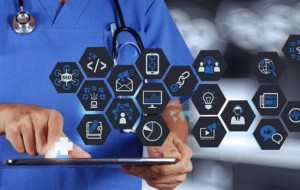 Medical organizations invest a measly 10% of their revenue into IT systems compared to the other industries' average of 25%. This poor trend can cause a whole lot of issues, whereas an upgrade to cloud-based IT infrastructure can boost the efficiency of these institutions by a large amount. The following six benefits are only some of the largest ones that come with this potential implementation.
1. Fast Service
One of the largest advantages of cloud computing is the ability to access data with little to no delay. No matter how much information is stored, you can retrieve a specific record in a couple of seconds. This lightning-fast approach is crucial in emergency medical situations, and it can make the difference between life and death. 
Also, cloud computing is up and running at all times, so the doctors don't have to worry about any downtime.
2. Easy Collaboration
Cloud has changed the principles of collaboration by allowing any number of people to work together on a single problem without ever having to meet up in person. The document/file is stored off-premises, and the project creator can choose manually who has access to it by sharing the link or providing permission. This means that healthcare workers from all around the world can be in constant interaction, share their experiences and make any modifications that they see fit. When faced with a tough diagnosis, they can collaborate with their respective colleagues, which is bound to improve healthcare in the long run.
3. Cost-Efficiency
While the initial costs of implementing cloud computing might seem a bit steep, it's a one-time investment that you won't have to worry about later on. Medical experts need to store massive amounts of data, which means acquiring new hardware and figuring out ways to solve storage problems. With a cloud system, the complete process is left up to the provider. Resources can be acquired quickly and easily, while the maintenance costs are close to non-existent. If that's not enough, cloud computing requires a lot less energy, which means that the respective bills are going to be more than halved.
4. Adequate Patient Care
Even though it's not a cure-all solution, the digitalization of patient's health care records has been initiated in around 30% of healthcare organizations worldwide. This is mainly due to the speed of cloud-based solutions – physicians can access their patient's data instantly, no matter where they are located. 
Additionally, with digitized records and the ability to send documents via the Internet, medical transcription costs have been reduced by over 80%. By removing the burden of infrastructure management, these organizations can fully focus on what they're all about – patient care.
5. Data Management
Try to imagine how much time would be wasted if, for every single patient, the doctor had to sift through hundreds of thousands of different documents and papers. Well, with the cloud, all of the data is kept synchronized and updated in real-time. All that needs to be done to retrieve a record for a specific patient is to run a simple search query. The data input is also automated, which means that there's no worrying about whether the document is going into the right file cabinet or not. It's simple, efficient, and consistent.
6. Improved Privacy
Patient data belongs to one of the most confidential groups of information that has to be kept under lock and key 24/7, without anyone being able to access it outside of the medical professionals. Files on the cloud can only be looked at by those who have been granted special permission. Outside of it, almost all reputable cloud computing systems are protected by ISO-certified encryption mechanisms, as well as an SSL wrapper that encodes all traffic within the channel. If you're looking to store confidential data, there's no better place than the cloud.
Additional Safety Precaution with Spokeo
Data breaches are a massive issue in the healthcare sector, and the resulting losses can cost organizations millions of dollars. The main cause of these issues are fake emails and calls that trick people into giving up compromising data. Fortunately, there's an easy way to avoid falling victim to these malicious attempts, and it goes by the name of Spokeo.
A reverse phone lookup and email search tool, Spokeo is able to reveal who the sender/caller is without knowing anything other than the source number/email address. It works similarly to the cloud systems – a search query is run against an extensive collection of data, and a report is returned to the user if a match is found. This way, people can know exactly who they're dealing with even before answering/sending a reply.
Maguire Haigh is a marketing manager for Spokeo. He is interested in the latest technology trends, marketing strategies and business development. He also prefers travelling, exploring the world and meeting new people. Maguire has great experience in creating and editing articles on different topics.
Comments
comments