The Carolina Panthers have just cut 2019 3rd round draft pick and former starting QB Will Grier from their roster, dropping their total number of quarterbacks down to just 2.
Sam Darnold will now be the starting Quarterback and P.J. Walker will back him up to start the season.
Quarterback Will Grier among #Panthers early cutshttps://t.co/HSsQQR1zJr

— Carolina Panthers (@Panthers) August 31, 2021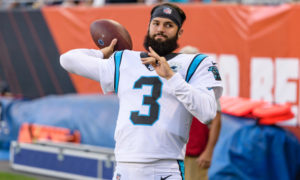 Grier had his first career start in week 16 against the Indianapolis Colts, throwing for 224 yards, rushing for 17 yards, and having 3 interceptions in the 38–6 loss. He also started against the Saints in Week 17, throwing for 4 yards and 1 interception before exiting the game due to a foot injury in the second quarter. He did not start any games in the 2020 season.
This morning, the Panthers also made the decision to cut an additional 12 players, including; veteran linebacker Josh Bynes, receiver Omar Bayless, running back Spencer Brown, defensive lineman Frank Herron, offensive lineman Mike Horton, cornerback Jalen Julius, wide receiver Keith Kirkwood, outside linebacker Christian Miller, offensive lineman Aaron Monteiro, wide receiver C.J. Saunders, tight end Stephen Sullivan, and offensive lineman Sam Tecklenburg.
What do you think about today's cuts by the Panthers? 
Comments
comments