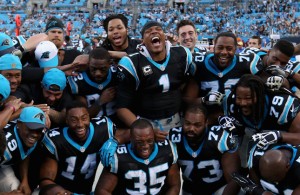 While it may be hard to believe after a 5 game losing streak, the Carolina Panthers do still have a chance at a Super Bowl win this year, albeit, a very slim one…
Before winning the Super Bowl, they'd first have to make it to and win the playoffs.
The Panthers currently have a 6-7 record and are sitting at the #7 spot in the NFC, with only 6 teams making it to the playoffs, they would have to advance past one of the following teams:
Saints @ 11-2
Rams @ 11-2
Bears @ 9-4
Cowboys @ 8-5
Seahawks @ 7-5
Vikings @ 6-5
The Panthers still have 3 games left – 2 against the Saints and 1 against the Falcons. If they win all 3 games, they will be 9-7, meaning several of the above teams would still have to lose a couple games, and the Redskins and Eagles (also currently both 6-7) would have to perform worse than the Panthers for them to make the top 6.
Oh, and the Giants, Lions, and Bucs are all at 5-8, and the Packers are at 5-7, so they're all also, theoretically, kind of, sort of, in the running.
Hey…we did it back in 2014.
Go Panthers! 
Comments
comments