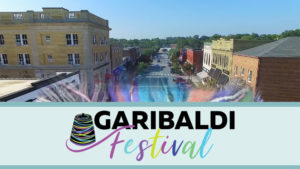 The Garibaldi Festival is an annual event in historic downtown Belmont, N.C.
Each year the festival shuts down the streets of Historic Belmont to bring history alive and pay homage to a city that was formerly known as Garibaldi Station, due to its railroad stop along the tracks constructed in 1871 (https://www.cityofbelmont.org/241/History).
The festival has a fresh new spin this year as a celebration of the creative community — local arts, crafts and music.
The Garibaldi Festival will be held on Saturday, April 27, 11 a.m. to 4 p.m. in Stowe Park. It will feature live music by DownTown Abby and The Echoes (11:30 a.m. to 1:30 p.m.) as well as Caleb Davis (2-4 p.m.) plus craft beer from Gaston County's Cavendish Brewing Company among a variety of local arts vendors. Guests also are invited to become part of the celebration and beautifying Belmont through a participatory public art mural.
As part of the participatory art creation, individuals of all ages will be invited to help create a mural for downtown Mooresville. The mural painting is 1-3 p.m. on the Mill Street parking lot wall in downtown Belmont. Artist Georgie Nakima (gardenofjourney.com) will oversee the mural through a paint-by-number design, allowing everyone to participate in bringing the mural to life. The design will reflect many things native to Belmont, including natural elements such as the dogwood, Carolina silver bell, and the ruby-throated hummingbird. Water will be represented as Belmont is along the Catawba River and the piece will highlight the local railroad presence, among other creative work.
Check out more info about the Garibaldi Festival via the City of Belmont's page here – https://www.cityofbelmont.org/189/Garibaldi-Festival.
Comments
comments