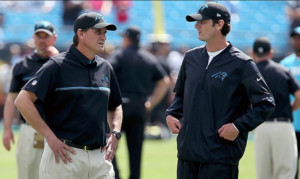 With Americans quitting their jobs at record rates during the so-called "Great Resignation," WalletHub today released its report on 2022's States With the Highest Job Resignation Rates.
WalletHub ranked the 50 states and the District of Columbia based on how frequently people are leaving their places of employment. Below, you can see highlights from the report.
South Carolina was ranked as having the 4th highest rate in America, and North Carolina wasn't far behind with the 8th highest.
States With the Highest Job Resignation Rates
| Rank  | State | Resignation Rate (Latest Month)  | Resignation Rate (Last 12 Months)  |
| --- | --- | --- | --- |
| 1 | Alaska | 3.90% | 4.15% |
| 2 | Florida | 4.30% | 3.20% |
| 3 | Arizona | 4.20% | 3.33% |
| 4 | South Carolina | 4.00% | 3.43% |
| 5 | Georgia | 3.70% | 3.79% |
| 6 | Mississippi | 3.70% | 3.43% |
| 7 | Nevada | 3.30% | 3.76% |
| 8 | North Carolina | 3.50% | 3.38% |
| 9 | Wyoming | 3.40% | 3.39% |
| 10 | Alabama | 3.50% | 3.15% |
| 11 | Louisiana | 3.40% | 3.29% |
| 12 | Kentucky | 3.20% | 3.49% |
| 13 | Montana | 3.20% | 3.47% |
| 14 | Idaho | 3.10% | 3.35% |
| 15 | West Virginia | 3.10% | 3.31% |
| 16 | Utah | 3.30% | 2.95% |
| 17 | Tennessee | 3.10% | 3.21% |
| 18 | Indiana | 3.00% | 3.28% |
| 19 | Oklahoma | 3.00% | 3.18% |
| 20 | Delaware | 3.00% | 3.18% |
| 21 | Arkansas | 3.00% | 3.17% |
| 22 | Colorado | 2.90% | 3.29% |
| 23 | Texas | 3.00% | 3.04% |
| 24 | Hawaii | 2.50% | 3.50% |
| 25 | Oregon | 2.70% | 3.04% |
| 26 | Vermont | 2.80% | 2.83% |
| 27 | New Mexico | 2.70% | 2.90% |
| 28 | Virginia | 2.60% | 2.78% |
| 29 | North Dakota | 2.40% | 3.08% |
| 30 | Illinois | 2.50% | 2.83% |
| 31 | Nebraska | 2.50% | 2.72% |
| 32 | New Hampshire | 2.40% | 2.86% |
| 33 | South Dakota | 2.50% | 2.67% |
| 34 | Washington | 2.60% | 2.47% |
| 35 | Wisconsin | 2.40% | 2.79% |
| 36 | Ohio | 2.40% | 2.76% |
| 37 | Missouri | 2.30% | 2.87% |
| 38 | Michigan | 2.20% | 3.03% |
| 39 | California | 2.50% | 2.52% |
| 40 | Rhode Island | 2.30% | 2.68% |
| 41 | Kansas | 2.30% | 2.63% |
| 42 | Iowa | 2.30% | 2.62% |
| 43 | New Jersey | 2.30% | 2.48% |
| 44 | Maryland | 2.30% | 2.48% |
| 45 | Minnesota | 2.20% | 2.45% |
| 46 | Maine | 2.00% | 2.69% |
| 47 | Pennsylvania | 2.10% | 2.24% |
| 48 | Massachusetts | 1.90% | 2.28% |
| 49 | Connecticut | 1.90% | 2.24% |
| 50 | District of Columbia | 1.90% | 2.03% |
| 51 | New York | 1.70% | 1.95% |
Comments
comments