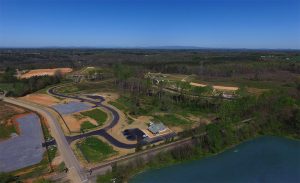 The largest shooting range in the Carolinas just got even bigger with the $1.3 million dollar expansion of the Foothills Public Shooting Complex, located just west of Charlotte.
The expansion will add a new skeet range, two combination skeet ranges, trap ranges, and a 5-stand range. The complex already houses three 50-yard pistol ranges, two skeet/trap and pistol ranges, a 250-yard rifle range, a 3-D archery range.
The expansion of the public facility is mostly being paid for by the N.C. Wildlife Resources Commission and Cleveland County with additional funding coming from the Outdoor Heritage Advisory Council.
"The Foothills Public Shooting Complex has drawn people from all 50 states and 14 countries," said County Commissioner Johnny Hutchins. "Since it opened in April, 2016, we have had more than 85,000 visits."
Charlotte Stories was given access to their drone flyover video of the entire complex;
They are located just outside of Gastonia in Cherryville, NC at 283 Fielding Rd. – about a 45 minute drive from Uptown Charlotte;

You can find out more on their Facebook page here.
What do you think of the complex?
Comments
comments