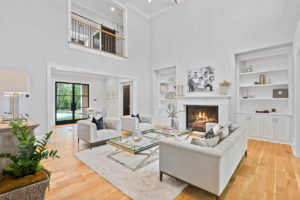 Are you trying to brighten up a boring apartment? Or starting with a brand new canva? It's always hard to find the perfect starting point, even if you know everything, happening in Charlotte. These Charlotte interior designers and their Instagram profiles can help you find inspiration to create something beautiful on your own. Or by scrolling your feed you may find your best designer, as each of them has a distinct, unique style and approach, so sometimes it may be better to just leave the job to them. They have style, imagination, and the interiors or objects they create are masterpieces. 
Traci Zeller
tracizeller.com / @tracizeller
Our first stop is a person designing "chic and enduring interiors for modern lives." Traci Zeller is a former lawyer who found her passion as a working mom. Her designs are based on the combination of style and harmony with simple yet rhythmic patterns. There are beautifully updated old houses, nurseries with murals, dining rooms with antique chairs (similar models can be found at Homey Design Store) and much more.
The key tones are pastel, nude and calm. Favorite direction – light classics. There could be some bright details like vintage French posters, but the interiors are mostly harmonic and soothing. Traci Zeller is a decorator, an architect, and a designer. She can bring something special to the interior, plan the project of the room too and create a design of a beautiful house from scratch. 
Lisa Sherry Interiors
lisasherryinterieurs.com / @lisasherryinterieurs
Lisa is an innovator! She successfully creates interiors in the style of high-tech, loft, minimalism. She likes to combine different directions, so even classic interiors have a delicate touch of Provence or shabby chic. Lisa always takes on large-scale projects with enthusiasm, bringing spectacular details into modern interiors. Her projects are bright, memorable, sensual, but at the same time cozy and fitting for the customers.
Her interiors are eclectic but harmonious. Sometimes it may seem that there is a lot of everything in the room. But surprisingly, everything fits perfectly together. Uncompromising, stubborn, yet almost melodic, tuneful. That is how Lisa Sherry Interiors can be characterized. Favorite materials are lightweight, ecological. She can choose furniture for any interior since it will not be difficult for her to design a wardrobe, sofa or bookshelf.
Barrie Benson
barriebenson.com / @barriebenson
The interiors of Barrie Benson are complete, with a distinct belonging to a certain style, cozy and modern. She is not a supporter of any particular direction in the arrangement of the premises. However, her design incarnations will be relevant for more than one year. What do you think, maybe this is the modern style of the 21st-century classics?
A versatile designer, Barrie Benson takes on the design of residential buildings and apartments, as well as public spaces. She works in different styles and believes that there is no particularly popular style. Everything needs to be tried on to the situation and the owners of the object. Her projects are both modern and vintage interiors. Often she harmoniously combines things, decoration, colors inherent in different eras and directions, uses various technological advances in her work.
Amy Vermillion
www.amyvermillion.com / @amyvermillioninteriors
Interior projects of Amy Vermillion are individual, characteristic, sometimes even avant-garde. Young, talented, successful. This is how Amy can be characterized. If you want to fit an antique dresser, table or wardrobe into a modern interior – Amy will do it. Combining seemingly incongruous objects in one room is her strong point. Supplements the interiors with authentic antiques that she personally purchases abroad and brings to Charlotte.
The favorite interior trends of Amy Vermillion are classics with a modern interpretation and art deco. Her area of ​​interest includes both residential and office and retail. The created interiors are bright, sometimes theatrical. She skillfully plays on contrast, inscribes color accents in the interior of any style. Above all, she values ​​comfort, so she thinks over every detail. Neither the features of the material used, nor the size of the pillows or cabinet, nor even the degree of firmness of the mattress will escape her attention.
Lisa Mende Design
www.lisamende.com / @lisamendedesign
Lisa Mende loves all styles of interior design with the exception of Art Nouveau. She likes to create distinctive projects. Maybe you can add shocking details to the classic interior, and it will only benefit from this! Lisa Mende is often accused of being too harsh. In fact, this character trait is caused by the specifics of the work. The more adamant the interior designer is in her requirements, the more successful the project will be and the fewer mistakes everyone involved in creating the interior will make.
Lisa has more than a dozen interiors of cafes and restaurants, from modest to famous. Each of them has a unique character with an added zest: chandeliers, stucco molding, fireplace grate, stained-glass windows. The peculiarity of Lisa's work is to put her soul into every object. Therefore, the interiors are unique and it is impossible to meet two similar ones. As a visitor to the restaurant, you will not be able to miss the situation either – the entourage remains in your memory for a long time.
Phoebe Howard
@phoebehoward_decorator
In the portfolio of Phoebe Howard, there are interiors from English classics to pop art, but she puts any style through the personal experience and needs of the client. Phoebe is well aware of the subtleties of historical styles, but in her projects she is engaged not so much in recreating them as in their stylization, often seasoning classical elements with unexpected coloristic solutions. Howard has both modern projects and interiors in restrained colors – in the end, everything depends on the space and the wishes of the customer. At the same time, Howard is one of those designers who personally lead all their projects and believe that it is in the dialogue between the client and the designer that a real author's interior is born.
In her work, Phoebe Howard tries not to repeat herself – she takes on projects of all sizes, from tiny coffee shops and jewelry boutiques to estates and large retail spaces. Moreover, she can not only arrange them, but also develop a design concept that includes packaging and fonts. Howard works very subtly with color: her projects often turn out to be cheerful and sunny regardless of what is happening outside the window.
Mary T. Miller
www.abodehomedesign.com / @abodebymtm
The studio's projects are logical and functional – with interesting planning solutions and designer furniture. Mary T. Miller makes modern interiors but works with pleasure preserving the original details to the maximum because she considers respect for the place and history a necessary condition for a successful project. She likes to communicate with the world through Instagram, in which she shows not only finished projects, but also the process of work, and also shares sources of inspiration.
The studio adheres to the principle of effective design. Behind each finished object is not only an interesting design idea, but also a sober calculation: the client will be shown a three-dimensional visualization, they will make an economic justification of all decisions, and they take environmental friendliness as seriously as comfort. Among the studio's projects, there are many types of apartments: to find a balance between the interior and the wide panorama of the city outside the windows. They often use custom-made "carpentry" in projects, thanks to which a very warm feeling remains even from laconic modern spaces.
Comments
comments