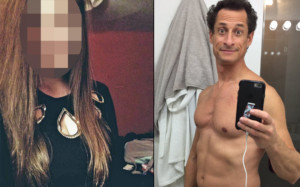 On September 21, 2016, a 15-year-old girl came forward to the Daily Mail with sexually explicate text messages and pictures from Anthony Weiner (We just discovered that the girl is a sophomore in a Gastonia high school – we can't reveal her name for safety reasons).
The scandal quickly turned into a full scale federal investigation, leading to a seizure of Weiner's computer equipment and electronic communications – including communications from his wife, Huma Abedin (who happens to be the vice chairwoman of Hillary Clinton's presidential campaign).
During the FBI investigation, agents found a stockpile of new emails related to Clinton's controversial private email server.
On Oct. 28, 2016 FBI Director James Comey sent a letter to congress, stating that the FBI will be reviewing emails found during the Weiner investigation to see if they will add any additional incriminating evidence or charges to the bureau's investigation into Clinton.
This FBI letter then caused hundreds of media outlets to publish articles along the lines of, "FBI reopens Clinton probe after new emails found in Anthony Weiner case".
These articles and news reports, along with the increased fear that Clinton may be arrested, caused her poll numbers to plummet. In the beginning of October, Clinton had a commanding 10 point lead over Trump – as of yesterday, Trump was actually polling 1 point ahead of Clinton, and now with the election just a few days away, it's unknown if that trend can be reversed.
USA Today noted that even though the FBI's move could have been seen as a political move, they really had no choice. "Imagine the uproar had Comey kept mum and word of the Weiner-related inquiry leaked out even closer to Election Day. If Clinton wins, she'll be able to point to the FBI director's letter as further refutation of Trump's bogus assertion that the election is rigged against him. She might even want to thank Comey."
It seems ironic that although numerous sexual scandals and comments destroyed Trump's reputation over the past year, this latest sex scandal from Gastonia may actually result in him winning the election.
Comments
comments