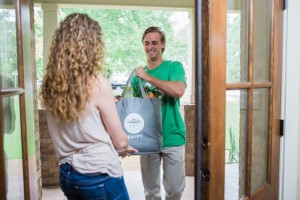 Target just started using their newly acquired Shipt delivery company to offer same-day delivery of most of their products to Charlotte residents.
"Our partnership with Target will now allow for customers across the country to enjoy the benefits of shopping Target's wide assortment with the personal touch of home delivery offered by Shipt," commented Shipt's CEO Bill Smith.
Target acquired the delivery startup this past December and announced they would start delivering to major metro areas starting toward the beginning of 2018.
Shipt initially started in Alabama after seeing the wild popularity of Amazon Prime Pantry grocery delivery service, which launched back in 2014.
They started in the Queen City last March, and now delivers for Lidl, Publix, and Harris Teeter.
The company has already hired over 500 shoppers, who are contracted employees, similar to Uber drivers. They make between $15 to $20 for every order they deliver. They now expect to hire an additional 4,000 shoppers across the Southeast as part of their latest expansion. If you're interested in becoming a shopper, you can find out more on their website here.
Have you used Shipt yet? What are your thoughts? 
Comments
comments