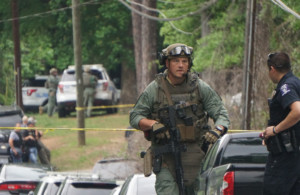 The Charlotte SWAT division was just deployed to North Charlotte in an attempt to arrest a person who has now barricaded himself inside a home and has refused to come out. It's unclear at this point if the barricaded suspect has or is threatening to use any weapons.
This incident began at around 11 am this morning. CMPD officers have now block off several streets near the intersection of Sunset Road and Oakdale Road and are asking the public to stay away from the area.
According to a press release from CMPD, "Members of the Charlotte-Mecklenburg Police SWAT team are actively working to peacefully apprehend a barricaded suspect in the 6500 block of Forest Cross Dr. We ask the public to please stay clear of the area."
Active SWAT Incident in the North Division https://t.co/jGvyEUvCJJ

— CMPD News (@CMPD) December 21, 2021
We will update this article when new information is released.
Comments
comments