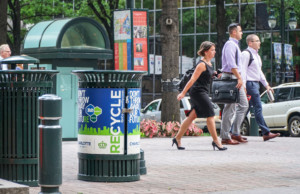 Sustain Charlotte virtually recognized over 40 nominees and 6 winners at the 10th anniversary of the Charlotte Sustainability Awards presented by Duke Energy.  All the nominees were recognized for leading the way toward sustainability and smart growth, and by their actions, inspiring others to do the same.
2021 CHARLOTTE SUSTAINABILITY AWARD WINNERS: 
INSPIRING INDIVIDUAL
Renee Bradley. As a resident of Plaza Midwood, Renee Bradley is an advocate for safe bike and pedestrian travel in her community. Renee has served as the chair for the Stroll and Roll Plaza Midwood committee, an organization that she founded, with a mission to advocate for a more pedestrian and bicyclist-friendly neighborhood. She has been a key champion calling attention to the need for the protected bike lanes that opened on the plaza last spring, a project that is the result of years of collaboration in partnership with Sustain Charlotte bringing together many entities including the neighborhood, the City of Charlotte, CDOT, and many others.
INSPIRING SMALL BUSINESS (Gross annual revenues under $3M)
Wild Hope Farm. Wild Hope Farm is a diverse organic vegetable and flower farm passionate about bringing high-quality food into our local communities through a sustainable approach. As a community-supported agriculture farm, they have a direct partnership between local consumers and their farm, enabling you to buy fresh and support local. Their environmental stewardship goals go beyond farming to regenerative land management with several different types of projects including retention ponds, native warm-season grass restoration through controlled burns, creating pollinators plots, adding native fruit trees, and investing in renewable energy.
INSPIRING LARGE BUSINESS (Gross annual revenues $3M+)
Grubb Properties. Grubb Properties creates exceptional real estate environments through the repositioning of office buildings and the development of multifamily communities under their nationally registered Link Apartments® brand. Innovation in housing affordability has been a cornerstone of their company since its founding in 1963 when the company overcame "redlining" — used by banks to limit lending in minority neighborhoods — by forming a not-for-profit financing arm to build and finance more than 400 homes. Today they are focused on addressing the housing affordability crisis and promoting better communities through their Link Apartments® brand. Grubb Properties has committed to creating, investing in, and developing a highly innovative, efficient, and scalable solution to America's housing shortage. 
INSPIRING BUILDING PROJECT
Steven's Creek Nature Center. Steven's Creek Nature Center's site was designed by land design and led by architects Neighboring Concepts, taking advantage of the natural amenities on the 275-acre site. The project utilizes low-impact and regenerative design by working with and restoring the land through native planting, regionally sourced building materials and carefully integrates active systems into the site design. Naturalized berms and rain gardens serve as just a few of the integrated educational tools to help teach children about water cycles and creek health and are carefully interwoven into the site. The focus of the nature center will be on stream ecology, with indoor and outdoor learning spaces for environmental education and engagement. This project has served the greater Charlotte community by acting as a catalyst for developing green infrastructure and generated interest in non-vehicular pedestrian/bicycle connections, such as the future extension of the Steven's Creek Greenway expansion that will connect to the center.
INSPIRING NONPROFIT
Anne Springs Close Greenway. Anne Springs Close Greenway provides recreational, educational, and community activities and facilities in the fort mill area. The greenway is a 2,100-acre nature preserve that offers hiking, mountain biking, horseback riding, kayaking, and more to its visitors. The mission of the greenway is to "connect people to nature through recreational and educational activities while fostering a passion for environmental conservation, animal habitat, and protection of natural resources." In 2019, the greenway constructed a new welcome center called The Gateway which employs a variety of passive and active sustainable systems that aim to drastically reduce energy consumption, improve thermal comfort, conserve water, and improve indoor air quality. The Gateway's sustainability initiatives serve to engage, educate, and inspire future generations while driving leadership in environmental conservation and stewardship.
INSPIRING GOVERNMENT AGENCY
City of Charlotte Planning, Design & Development Department. The Planning, Design, and Development Department of the City of Charlotte is responsible for creating great places in our community. Over the past 2.5 years, they have worked to create the Charlotte Future 2040 Comprehensive Plan, which is a vision for the future of charlotte. The planning process has been guided by a focus on equitable growth and by the citizens of Charlotte coming together to prioritize what is most important. as a community-driven plan, it seeks to address the inequities of the past, and unite the community behind a shared set of goals for our future. The plan development has focused on broad and robust community engagement starting with their What Can UDO Summit and continues today. Since the fall of 2019, they had over 500,000 interactions with community members and heard from more than 6,500 people through over 40 different methods of engagement. They quickly pivoted to the new COVID engagement environment using social media challenges, online games, physical card games, a drive-in event, community conversations, and many other creative methods in an effort to meet people where they are.
The Charlotte Sustainability Awards utilized the event platform Remo to allow for several networking opportunities. The event included the awards ceremony hosted by WCNC's Mete, networking opportunities, a raffle, welcoming remarks from Charlotte Mayor Vi Lyles.
Comments
comments