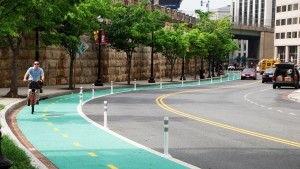 On June 10 at 5 pm, Sustain Charlotte will be hosting a free virtual conversation on the City's plans to develop the Uptown Cyclelink, a network of protected bike lanes that will connect segments of bike lanes throughout the City. Representatives from Charlotte DOT, Stroll and Roll Plaza Midwood, and the Lakeview Neighborhood Alliance will participate in the conversation. Participants can register here. 
This conversation is part of Sustain Charlotte's Shifting Gears, a series of events hosted by Sustain Charlotte that feature a keynote speaker and small group discussions where participants connect with other cycling advocates. Whether you are interested in biking but haven't started yet, a weekend warrior, or a daily bike commuter, everyone has a part to play in helping realize our City's vision for bicycling in Charlotte. Don't miss this exciting opportunity to get more informed, engaged, and make a difference! 
Sustain Charlotte is a 501(c)3 nonprofit organization helping to advance a region-wide sustainability movement by serving as a catalyst for change. Our mission is to inspire choices that lead to healthy, equitable and vibrant communities across the Charlotte metro region for generations to come. 
Comments
comments