Early this morning many Charlotte-area residents were awoken to the sound of howling winds, pounding rain, and falling branches as one of the most powerful storms of the year ripped through the Carolinas.
☔️⛈️⛈️☔️HUNKER DOWN.
That means take appropriate precautions in case your home or location is hit by severe weather. there is a Tornado WATCH in effect for our area. Not a warning yet, but serious enough to pay attention.#CltWx #Charlote #Clt #NC #SC pic.twitter.com/mTNDQfvxkQ

— Charlotte TrafficGuy (@Clt_TrafficGuy) April 13, 2020
Big tree down on 801 East Morehead St in Charlotte. I think @24foundation offices are still in this building. (Many years ago this was the home of 1065 The End & Magic 96.1 radio studios) @WCCBCharlotte pic.twitter.com/bPhsIh8dci

— Wilson (@WilsonsWorld) April 13, 2020
@WBTV_News Huge tree down hit my house early this morning. 😳😳😳😳😳😳😳😳😳😳😳 pic.twitter.com/iEKLK81KqZ

— Stephanie Gregory (@Ringostarlight4) April 13, 2020
The tornadoes and extreme winds took town trees, power lines, and cause localized flash flooding all across our region.
Not sure if it was a tornado. Heard a whisting sound and took shelter around 4:51 AM. Tree down and some roof damage. #severeweather #wakeupclt pic.twitter.com/mdb3bGrPPS

— V. Nichole Rowland (@nikichem) April 13, 2020
A major intersection at South Tryon and Westinghouse Blvd was completely shut down this morning due to a downed power line in the middle of the street.
⚠️Please use an alternate route⚠️ pic.twitter.com/vQGqRDGvZb

— CMPD News (@CMPD) April 13, 2020
One person was killed and several others were injured after a tornado touched down near Greenville, SC;
A tornado touched down in the upstate of South Carolina Monday morning.#scwx #SevereStorms #tornadoes https://t.co/13ghNc0zqh

— FOX 46 Charlotte (@FOX46News) April 13, 2020
Another possible tornado in South Charlotte forced emergency crews to rescue a woman from her home after a tree fell on it.
Possible tornado in Richmond County NC (moving towards Southern Pines) and a rescue in Charlotte after a tree fell on a house, watch @WCCBCharlotte Live Coverage: https://t.co/mXDXZOy47l pic.twitter.com/xLrJU4q46y

— Wilson (@WilsonsWorld) April 13, 2020
According to Duke Energy, there are now over 5,000 active power outages and over 300,000 customers in the Carolinas without power: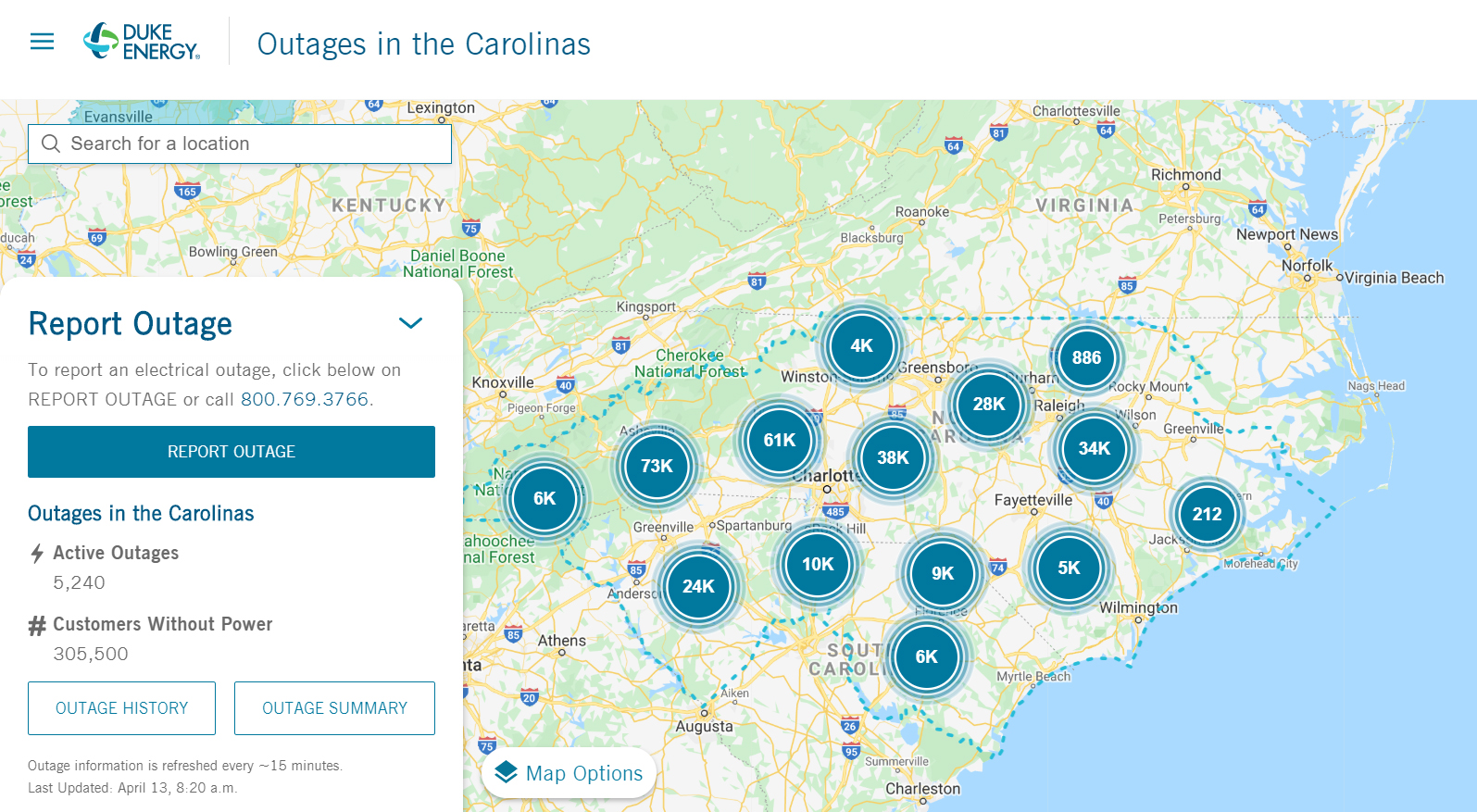 What was your experience like this morning?
Comments
comments