A developing tropical disturbance could become the first named storm of 2020 by next week according to the National Weather Service.
The NHC just upgraded the probability of a new subtropical depression that's been forming over the Bermuda triangle. They now say that there is a 70% (HIGH) chance of it developing into a subtropical storm over the next 5 days. If it does develop, they NWS will give the new storm the name 'Arthur'.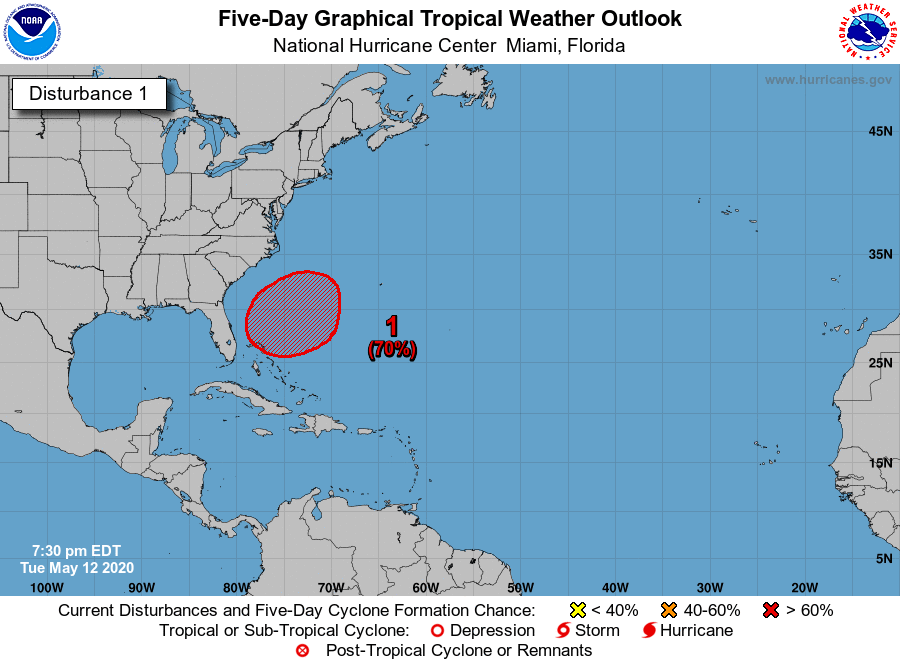 The NWS sent out the following alert earlier today:
A broad area of low pressure is expected to develop late this 
week or early this weekend a couple of hundred miles north of 
the Bahamas. Environmental conditions appear conducive for gradual 
development of this system, and a subtropical depression or storm 
is likely to form this weekend while it moves northeastward over 
the western Atlantic. The next Special Tropical Weather Outlook on 
this system will be issued by 9 AM EDT Wednesday, or earlier, if 
necessary.
The official Atlantic Coast hurricane season for 2020 runs from June 1st through November 30th, so if Arthur does develop into a full blown storm, it would be nearly a month early.
NWS officials are reminding all residents in Atlantic Coast states to start preparing for the upcoming hurricane season.
In case of a power outage, make sure to have the following emergency items stocked in your home;
We will continue to update this article as this storm develops. 
Comments
comments