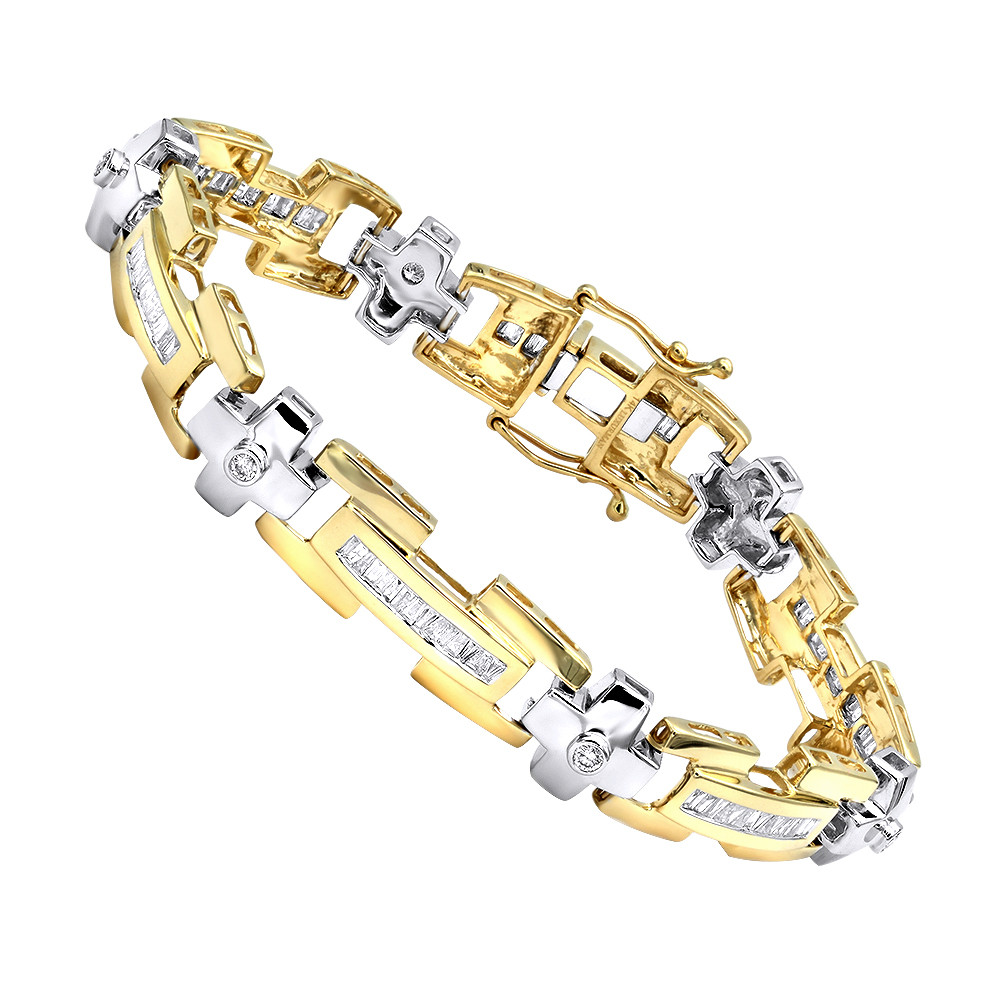 Men wear bracelets to accentuate and, at the same time, accessorize their outfits. Like watches, bracelets can be worn as frequently as every day. Some men wear bracelets like it's a ritual, some may get extremely uncomfortable going out with bare wrists. Of course, there is a wide collection you can choose from— rope bracelets, cuff bracelets, ID bracelets, gemstone bracelets, gold bangle, and bracelets.
If you want to fulfill a chic and confident look, a gold bracelet is the right accessory for you. Gold bracelets can withstand the test of time, and it would help you exude a sophisticated charm too. Since primitive times, gold bracelets signify prosperity and competence, and their meaning is outlasted until today. 
Why Choose Gold Bracelets?
We pick the best style based on the look we are trying to achieve. It would be best if you always looked for chains that will satisfy your style. However, bracelets created out of precious metals and gemstones are ones that can hoist your morale on either casual or special events.
Absolutely, all of us want to be healthy at all times, especially in the current times, but infectious agents like viruses are everywhere, and it's not easy to avoid them. Basically, gold bracelets heighten one's immunity. You can see that most people with gold pieces of jewelry always wear them. Indeed, it's an investment for one's health security. 
Besides, with luxurious gold bracelets, you'll find it more natural to socialize with people and display yourself. Hence, gold jewelry promotes your emotional welfare. Certainly, gold bracelets are worthy purchases you can have today.
If you are now encouraged to buy a wrist accessory, it is definitely the best time to spend on gold bracelets. You are now probably wondering how you are going to wear it after finally purchasing it. Worry no more and read through our gold bracelet wearing guide below.
Complementing a Watch
Basically, watches are designed to be worn on the left wrist since most people are right-handed because they are intended for the wrist opposite to the dominant one. However, if you're trying to pull off multiple bands on your wrist, you better accessorize both of them. 
Preferably, if you're planning to wear a gold bracelet with your wristwatch, consider donning the watch in your dominant hand. You must wear your gold band on the other wrist. 
You can wear multiple bands on one wrist, of course. If you want your other wrist totally empty, there's no wrong it pursuing such style. However, if you're attending a corporate event, you'll definitely make a mark by wearing the gold band in your non-dominant arm and the watch on your other wrist. 
Should It Be Below or Above the Watch?
If you are planning to wear a watch and gold band on the same wrist, you probably have a hard time deciding the arrangement of the accessories on your wrist.
The wristwatch-gold band combo is achievable if you're keen on both contrast and balance. The first thing to consider is the size of the bracelet. As the wearer, remember that the main goal is to pull off a balanced combination. Each band should gain equal attention. Thin bracelets should be fixed above the wristwatch so that it could match the appeal of your watch. In contrast, you can wear thick and bulky bracelets above or below the watch.
The bracelet's fit is one determining factor you also have to keep in mind. If it is freer than your watch, consider donning it under your watch so that it won't get entangled with your watch every time you move your arms. 
Wear It with Urban Clothing
Everybody is fascinated with streetwear. All of the baseball caps, joggers, statement tees, and sneakers could be complemented with a gold band. There is no better way to make a statement inspired by a streetwear vibe than to wear gold accessories with urban clothing.
Perhaps, it is the contrast of the streetwear's rugged style and the expensive appeal of the gold band that makes it a cool combo. However, gold bracelets could look tacky in these articles of clothing, so you better be good at mixing and matching your entire outfit. 
Best with Plain Tees
Working out a style like the American rapper Jay Z is quite uncomplicated. All you have to do is wear a plain white shirt and wrap your neck with a flashy statement pendant and wrists with gold or silver bands. 
Other plain colors like black and blue could go well with gold accessories. You can pick whatever style you want—chunky gold bracelets or even thin bands.
On Mixing Metals
One conventional rule in wearing accessories is to never mix metals. For instance, gold bracelets should never be matched with a silver band. In the modern jewelry world, anyone can break such a rule. Women can do a great job in pairing metals, yet it could be tough for men. 
It's not only all about wearing silver and metal bracelets at once. Start by picking the primary piece and then choose the complementary band and see that both items' tones and shades befit each other. 
Takeaway
Most men are not fond of getting overly dramatic over fashion patterns and styles. Gold bracelets can make one look sophisticated when matched with formal outfits. It could also go well with a utilitarian look. Apparently, by applying the correct ways of wearing such accessories, these bracelets will definitely suit well in a man's jewelry box.
Comments
comments