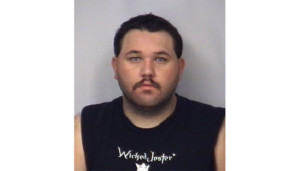 A police shootout just took place in Lincolnton NC after a man stole a Humvee from the National Guard Armory and led police on a multi-car chase, according to WSOC.
This morning police released the man's identity as 32-year-old Brian Samuel Brittain.
Local officers first spotted the military vehicle driving erratically with no lights on at 4:30 a.m.
Police Chief Rodney Jordan said the driver refused to stop for officers and a chase started down East Main Street.
After backup was called, the erratic driver backed-up into the pursuing officer's car, at which point, the officer fired at least one shot at Brittain. He then quickly drove away from the scene.
Just spotted the suspect vehicle in Lincolnton officer-involved shooting; you can hear it's still running @wsoctv pic.twitter.com/mTeZDBLQ2H

— DaShawn Brown (@DaShawnWSOC9) February 4, 2017
Brittain abandoned the Humvee and got into another vehicle. The owner of the second vehicle Brittain stole told police that Brittain had been shot.
Minutes later he was finally apprehended, then airlifted to a hospital in Charlotte.
Police have now confirmed the Military Humvee was stolen from the National Guard armory on N. Aspen Street in Lincolnton, NC.
Staff Sergeant Matthew Craig commented that Brittain broke in through the front window, walked through the building, then went to the parking lot to steal the military vehicle.
Brittain now faces multiple charges of felony breaking and entering, felony larceny of a vehicle, felony fleeing to elude, felony assault with a deadly weapon inflicting serious injury, and felony possession of stolen goods, among other pending charges.
Comments
comments