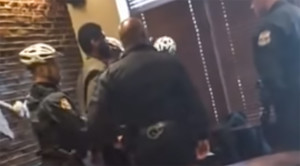 Starbucks just announced that it will be closing 8,000 across the country next month to re-train all of their employees about racism and racial bias.
The decision came several days after a Philadelphia Starbucks manager called the police after 2 black men sat down in a store without buying anything.
Here is one of the cell phone videos showing the arrest;
The company-wide training will be given to over 175,000 employees on May 29th.
"I've spent the last few days in Philadelphia with my leadership team listening to the community, learning what we did wrong and the steps we need to take to fix it," Starbucks CEO Kevin Johnson said in a statement. "Closing our stores for racial bias training is just one step in a journey that requires dedication from every level of our company and partnerships in our local communities."
The nationwide closing will include all 48 Charlotte area company-owned locations;
"We will learn from our mistakes and reaffirm our commitment to creating a safe and welcoming environment for every customer," Howard Schultz, Starbuck's founder and executive chairman commented in a statement.
Starbucks corporate has partnered with Bryan Stevenson of the Equal Justice Initiative; Sherrilyn Ifill of the NAACP Legal Defense and Education Fund; Heather McGhee of Demos; former U.S. Attorney General Eric Holder; and Jonathan Greenblatt of the Anti-Defamation League to create and implement the new program.
Once the company-owned stores have completed their training, Starbucks will be making it available to its partners.
Comments
comments