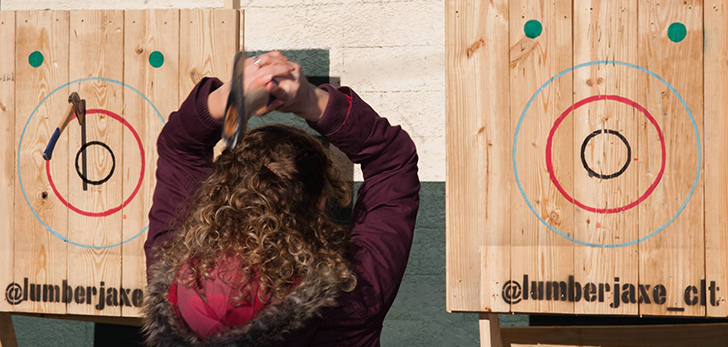 Charlotte is about to open the Carolina's very first axe-throwing facility.
Scott and Ashleigh Gadd signed a lease earlier this year at the old Kellogg's facility in Charlotte's Belmont neighborhood to launch LumberJaxe CLT;
After months of fevered anticipation, the Gadds just announced they'll officially open for business this coming Saturday (11/11) at 10am.
LumberJaxe plans on charging throwers $20 per hour to use their throwing lanes. All of their axes, targets, and rules will be held to strict National Axe Throwing Federation regulations, including; 1.25 and 1.75 pound axe heads with a maximum blade face of 4″ and a minimum handle length of 13″.
They hosted their first public event in the parking lot of NoDa's Abari Game bar back in July..with some curious looks from the CMPD:
Over the past year, they've developed quite the loyal following, and this past week, they even started their first axe-throwing leagues, which will soon be competing on a national level;
You can find out more on LumberJaxe's Facebook page here and Instagram profile here.
Comments
comments