A South Carolina teacher has just been put on administrative leave after asking all of her students several questions about the KKK, according to a Lexington-Richland Schools spokesperson.
The homework assignment asks students to list out the group's "purpose and motivation," "effects on opportunities of African-Americans," and "Illustrations." It then asks students to put themselves in the mind of a former KKK member – "You are there…You are a member of the KKK. Why do you think your treatment of African Americans is justified?"
The final question reads: "You are there…You are a freedman. Are you satisfied with your new life? Why or why not?"
Tremain Cooper posted an image of his nephew's homework assignment to his Facebook profile, saying it was given out to all 5th-grade students at Oak Pointe Elementary School in Irmo, SC;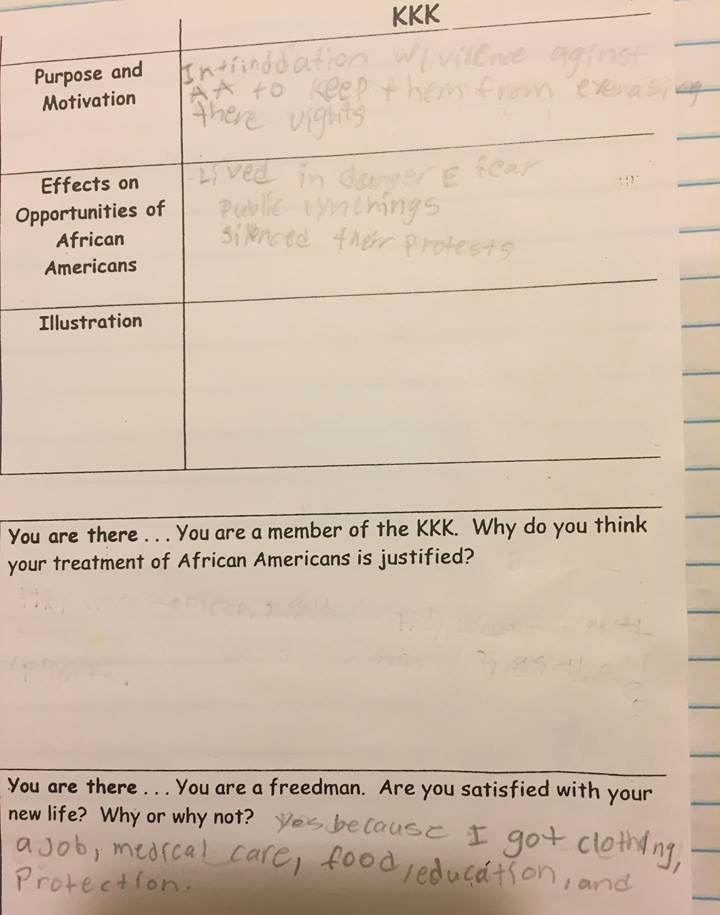 Cooper commented on his post that his nephew came home upset about the assignment – and Cooper noted that he was in complete disbelief over the questions.
He wrote, "How can she ask a 5th grader to justify the actions of the KKK."
Katrina Goggins, the director of communications for Lexington-Richland School District 5, said that the teacher has been placed on administrative leave in her public statement:
School District Five is taking this matter very seriously. We took immediate action to investigate once the concerns over the assignment were brought to our attention, and the teacher has been placed on administrative leave as part of our standard personnel investigation procedures. We have been in communication and will continue to be in communication with families to let them know our actions and next steps.
South Carolina standards for 5th grade require lessons on Reconstruction and discriminatory groups including the KKK. We must teach the standard, but we are taking steps to ensure this particular assignment will never be used again in District Five schools.
We understand the seriousness of this matter particularly in light of the events taking place in our country at this time. We want to ensure that our students, parents, staff and community know that we are giving this matter our full attention.
The teacher will stay on administrative leave until the district finishes their investigation into the homework assignment.
What are your thoughts on the assignment and the district's response? 
Comments
comments