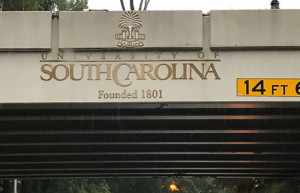 With businesses such as Marriott and Nintendo experiencing data breaches this year but the number of breaches down from 2019, the free credit-monitoring website WalletHub today released its report on 2020's States Most Vulnerable to Identity Theft & Fraud.
To determine where Americans are most susceptible to such crimes, the site compared the 50 states and the District of Columbia across 14 key metrics. The data set ranges from identity-theft complaints per capita to the average loss amount due to fraud.
South Carolina ranked as the #2 worst state in American for identity theft and fraud and North Carolina ranked #14.
States With the Most Identity Theft & Fraud
| Overall Rank*  | State | Total Score  | 'Identity Theft' Rank  | 'Fraud' Rank  | 'Policy' Rank  |
| --- | --- | --- | --- | --- | --- |
| 1 | Florida | 72.33 | 1 | 8 | 32 |
| 2 | South Carolina | 70.43 | 2 | 15 | 16 |
| 3 | Delaware | 70.02 | 15 | 1 | 32 |
| 4 | Nevada | 67.15 | 13 | 2 | 22 |
| 5 | New Jersey | 65.34 | 6 | 23 | 3 |
| 6 | California | 65.02 | 5 | 19 | 41 |
| 7 | New York | 65.00 | 9 | 5 | 41 |
| 8 | Georgia | 63.17 | 4 | 30 | 41 |
| 9 | Arkansas | 60.77 | 3 | 47 | 48 |
| 10 | District of Columbia | 60.64 | 22 | 4 | 1 |
| 11 | Pennsylvania | 60.02 | 12 | 22 | 3 |
| 12 | Maryland | 59.15 | 11 | 16 | 37 |
| 13 | Utah | 58.84 | 10 | 21 | 41 |
| 14 | North Carolina | 58.66 | 14 | 17 | 14 |
| 15 | Louisiana | 57.60 | 7 | 48 | 41 |
| 16 | Texas | 57.57 | 8 | 44 | 41 |
| 17 | Nebraska | 57.42 | 21 | 13 | 3 |
| 18 | Mississippi | 56.76 | 16 | 26 | 3 |
| 19 | Alabama | 56.25 | 19 | 25 | 16 |
| 20 | Iowa | 53.00 | 17 | 32 | 37 |
| 21 | Tennessee | 52.55 | 20 | 35 | 22 |
| 22 | Illinois | 52.14 | 18 | 33 | 48 |
| 23 | Massachusetts | 51.93 | 23 | 36 | 3 |
| 24 | South Dakota | 51.20 | 27 | 20 | 3 |
| 25 | Minnesota | 50.99 | 31 | 6 | 16 |
| 26 | Virginia | 50.32 | 26 | 12 | 51 |
| 27 | Oregon | 50.13 | 44 | 3 | 37 |
| 28 | Missouri | 49.88 | 25 | 34 | 3 |
| 29 | Ohio | 48.76 | 24 | 45 | 16 |
| 30 | Vermont | 48.32 | 37 | 10 | 22 |
| 31 | Arizona | 47.40 | 28 | 18 | 48 |
| 32 | Colorado | 46.89 | 40 | 11 | 22 |
| 33 | Hawaii | 46.30 | 33 | 24 | 28 |
| 34 | Wisconsin | 45.60 | 35 | 28 | 14 |
| 35 | Washington | 45.05 | 39 | 14 | 37 |
| 36 | Connecticut | 44.37 | 32 | 29 | 32 |
| 37 | Indiana | 43.70 | 29 | 40 | 32 |
| 38 | Rhode Island | 43.65 | 30 | 38 | 32 |
| 39 | Oklahoma | 41.93 | 34 | 50 | 16 |
| 40 | North Dakota | 41.76 | 51 | 7 | 3 |
| 41 | New Hampshire | 41.55 | 49 | 9 | 16 |
| 42 | Montana | 41.49 | 36 | 37 | 41 |
| 43 | West Virginia | 40.77 | 41 | 46 | 1 |
| 44 | Maine | 40.52 | 47 | 27 | 3 |
| 45 | New Mexico | 39.06 | 43 | 39 | 22 |
| 46 | Alaska | 38.81 | 46 | 31 | 28 |
| 47 | Kentucky | 38.69 | 42 | 41 | 22 |
| 48 | Idaho | 37.72 | 48 | 42 | 3 |
| 49 | Kansas | 36.94 | 45 | 43 | 28 |
| 50 | Michigan | 36.62 | 38 | 51 | 28 |
| 51 | Wyoming | 34.73 | 50 | 49 | 3 |
*No. 1 = Most Vulnerable
Comments
comments