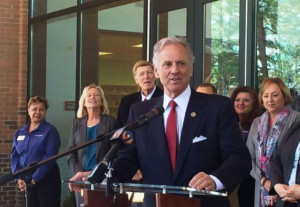 This past April, President Trump
signed a new law
that would let states deny funding to abortion providers including Planned Parenthood. The law essentially reversed President Obama's rule that explicitly stopped states from denying federal funds to clinics providing abortion services.
South Carolina's Governor Henry McMaster took advantage of the change by issuing Executive Order 2017-15 earlier this week – essentially prohibiting public funds from going to any agency that engages in abortion related services.
According to the 
official press release
; "Governor McMaster has directed state agencies to cease providing state or local funds, whether via grant, contract, state-administered federal funds, or any other form, to any physician or professional medical practice affiliated with an abortion clinic and operating concurrently with – and in the same physical, geographic location or footprint as – an abortion clinic."
The governor also directed the South Carolina Department of Health and Human Services to research and distribute lists of all qualified non-abortion women's health and family planning providers operating within a twenty-five mile radius of all abortion clinics throughout the state.
"There are a variety of agencies, clinics, and medical entities in South Carolina that receive taxpayer funding to offer important women's health and family planning services without performing abortions," said Governor McMaster. "Taxpayer dollars must not directly or indirectly subsidize abortion providers like Planned Parenthood."
Comments
comments