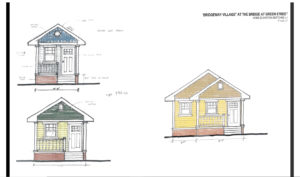 A South Carolina Church is now finalizing plans to build an entire "tiny home community" to house single homeless women.
First Baptist Church of Spartanburg's Bridgeway Village at Green Street will include 20 one-bedroom 190 sq ft tiny houses and 3 two-bedrooms 230 sq ft houses on the Northside of Spartanburg, SC (about an hour west of Charlotte).
The village will be surrounded by a fence and will have a security guard stationed on-site 24/7 to ensure safety.
First Baptist's website notes that:
"While there are homeless shelters in Spartanburg County for families, there is only one that houses single women. Individual women are among the fastest-growing population of homeless and there are not many resources for them. With nowhere to go and their basic needs not met, these women are seeking refuge in unsafe places.
BridgeWay Village will be a transitional housing program specifically for single women to assist them as they transition out of homelessness.
This tiny house village will provide the tools needed for lifelong growth. While in our program residents will have the opportunity to take classes, learn financial skills, strengthen their mental health, and cultivate their employment skills and abilities."
The project will now have to be approved by Spartanburg's Design Review Board and construction planned to begin later this year.
Comments
comments