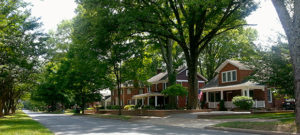 Mecklenburg County just tweeted out a warning to all residents that there is a fake tax collector trying to enter homes in Charlotte.
They also noted that the county appraiser will be going around to homes this month for reevaluations, but they won't try to enter a home on their own or on the spot. If the need to do an interior inspection, they are required to schedule an appointment, bring another government employee with them, and show proper government IDs.
Person posing as Tax Office employee recently tried to enter a home. How to identify when it's REALLY our staff » https://t.co/ycFVEvmYV3 pic.twitter.com/aCWX44UI9I

— Mecklenburg County (@MeckCounty) June 9, 2017
The County's website also noted that all official appraisers will be driving clearly marked county vehicles.
This month they will be visiting several communities throughout Charlotte including; Player's Ridge, Starmount, Linda Lake, Heritage, Myers Park, The Rapids, Olde Blakeney, Rural Matthews area, Sonoma, Delburg, Beatties Ford, Amity's Garden, Preston @ The Lake, Blakley Shores, York Road, Walker's Creek, Carmel/Johnston Road, Fox Glen/Red Trail, Mallard Grove, and Brookstone.
If someone comes to your door claiming to be a government employee but does not have valid ID, or is not driving a government vehicle, please call the Charlotte Mecklenburg Police at (704) 432-2442.
Please help spread the word!
Comments
comments