SPRiZZi Bev-Co., Inc. announced plans to start production of their new home drink maker in the former Michael Waltrip Racing building in Cornelius.
The company plans to upfit the 118,000 square foot facility to meet the needs of its operation.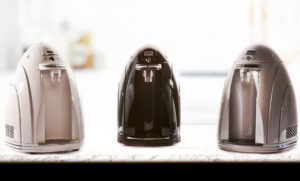 The SPRiZZi Drink Machine is attempting to challenge the wildly popular SodaStream countertop soda maker by offering "instant cold beverages made fresh and carbonated in seconds". One of the most significant differences between its competition is the company's unique 'flavor bullets', allowing a for a massive range of drinks including; soda, tea, lemonade, and sports drinks.
"We will be producing our 100% recyclable flavor bullets in Cornelius," said President/CEO Tim Goff. "My son Ryan and I are both invested in this community and are excited to bring our business here and provide jobs to the area."
The operation in Cornelius will house the raw materials that will be used to create the flavor bullets. The building will also be the distribution center for all SPRiZZI Drink Machines.
"This addition is impactful for the Town of Cornelius because it will be an additional 250 jobs for our residents," said Mayor Woody Washam. "This type of business is unique for our town and I'm eager to witness the positive economic impact."
SPRiZZi is hopeful to have production running by March and be fully-operating within two years. The main production room will have the capacity for 28 production lines. Each line is projected to produce 20 million flavor bullets per year, resulting in an annual production of over 500 million flavor bullets.
For more information about SPRiZZI Bev-Co., you can visit their website at sprizzi.com.
Comments
comments