Starting early this morning, several pictures have been circulating on social media claiming that I.C.E. officers (U.S. Immigration and Customs Enforcement) set up checkpoints around Charlotte and that they have been actively deporting people out of Charlotte.
The posts claimed that checkpoints were set up on Central Avenue, Albermarle Road, and Kilborne Drive. Throughout the day, rumors began circulating that random stops and arrests were being made by ICE agents and other local agencies, including CMPD and the Mecklenburg County Sheriff's Office.
At around 10am this morning, this picture was uploaded to Facebook with a caption that read, "…This is to inform your friends or family that don't have their papers in order…", it's now been shared over 1,400 times: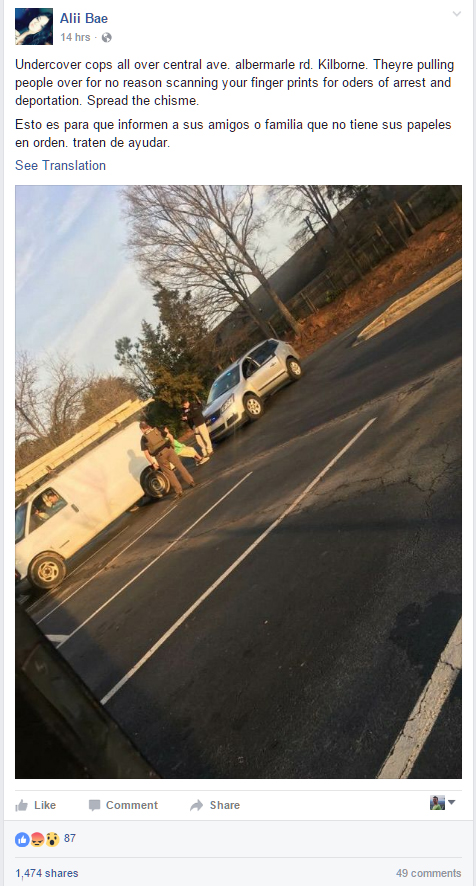 This afternoon, another misleading post, which states, "CMPD is definitely involved in the ICE operations. I thought that only the Sheriff's department were involved, but this photo confirms that our police department, which is not a signatory to 287g, is actively involved in rounding up los inmigrantes," was posted and has now already been shared over 146 times.
The picture is actually showing an officer assisting a DMV officer with a traffic stop:
About an hour later, he posted this on Twitter:
@CLTMayor Are you going to tell me that CMPD is not involved with ICE/MCSD in the arrests of immigrants? Quit lying to us. Show courage. pic.twitter.com/ehOWfyDYnd

— Tin Nguyen (@nctintin) February 7, 2017
According to WCCB, no such checkpoint have been set up, nor is there any increased activity by ICE in our city. "Every day, as part of routine targeted enforcement operations, U.S. Immigration and Customs Enforcement (ICE) Fugitive Operations teams arrest criminal aliens and other individuals who are in violation of our nation's immigration laws," says Bryan Cox, Southern Region Communications Director for U.S. Immigration and Customs Enforcement. "ICE conducts targeted immigration enforcement in compliance with federal law and agency policy. ICE does not conduct sweeps or raids that target aliens indiscriminately."
Please help spread the word.
Comments
comments