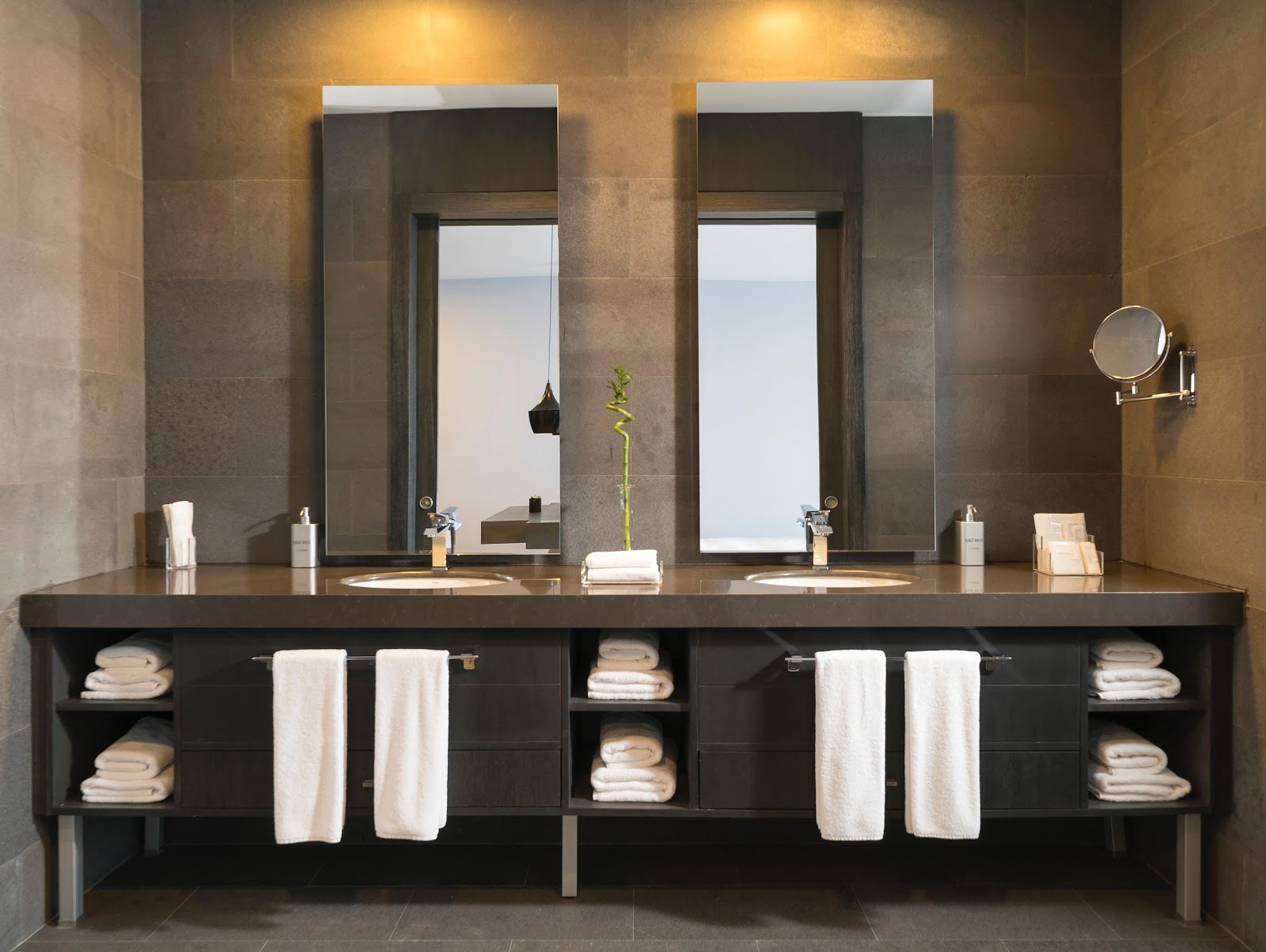 Revamping a bathroom is not as simple as one might think. Most of the time, one would need to engage contractors to change the tiles, install the tapware and lighting, etc. As such, renovating a bathroom can be a serious business and should not be taken lightly. That being said, it helps a great deal to plan ahead. After all, what harm can that do?
With that, we got you covered with a list of the most modern and popular designs that are worth keeping in mind. It does not matter whether you are still drafting your plan or are already prepared to strip your bathroom down to its bare walls; these trends are sure to elevate your bathroom and keep them looking trendy and aesthetic for years to come.  
Striking Marble
We all know the wonders that tiles can bring to a space, but have you ever imagined how majestic and luxurious a whole room of marbled walls can be? Just think, having a marble accent wall that complements your vanity of choice or even being surrounded by marble from floor-to-ceiling! I'll bet you are already excited to include a beautiful marble design in your bathroom!
According to top designers around the world, it is important, when picking your marble, to look at the colors, veining, and design of your marble. These features, if they are dramatic, can give your bathroom a more textured-finish and make it look less static and much more appealing. The key to the rising trend of having marble in your bathroom design is to pick stones that are one-of-a-kind and foreign to make it a feature in your space. 
Black Surfaces
Having a black feature wall or floor can bring about a myriad of benefits to your bathroom. Following the current trend, black tiles can and should be used like neutral-colored ones as it makes your space feel brand-new and contemporary. What's more? It beautifully complements sophisticated metal components like a brass shower-head or gold tapware. 
For some who refuse to forego white walls, you can still achieve a similar vibe by going black in connecting walls. The sharp difference between black and white is not only suitable for any style of home, but it also brings depth to the design which makes a room perceptively bigger. 
Relaxing Feels
It is safe to say that most of us want our bathrooms to be a safe-haven where we can fully relax and enjoy our time so that we can feel recharged to face the daily stressors of our lives once again. Just imagine those luxurious shining tapware, open-ceiling showers, and vintage bathtubs… 
Speaking of bathtubs, they can magically transform your bathroom to a spa right in your home. Its rounded edges balance out the straight and sharp lines in the bathroom while being a visually appealing centerpiece for your space.  To make it even more attention-grabbing and impressive, a statement lamp can be installed above the tub. You can buy commercial grab bars for your bathroom online.
For plant lovers out there, designers suggest not just adding bathing necessities but also greeneries around the centerpiece to further give the bathroom a peaceful feel. For instance, there are a variety of plants that can flourish due to the humid bathroom air while cleaning the air inside the room itself. 
Colorful Tiles
Sure, white tiles are the safe option, but if you want your bathroom to be a feature in your home, do not be afraid to experiment with colors and textures for your tiles. Try blending patterns, colors, florals, tones, and mix textures like terrazzo, multi-motif tiles, and abstract displays. This is the time to be creative with your tiles because more and more people are expanding their range of choices and becoming more daring with their design picks. In fact, more and more people are using their choice of tiles as a way of expressing themselves.
Powder Rooms with a Dazzling Flair
The powder room is a place to try that design that you always wanted but never dared to in the other parts of your house. Feel free to try that design you saw on Instagram or Pinterest in the powder room because there is no better place in your home that is as low-risk as this; given that it is a relatively small space and little time is spent in there. In fact, the powder room is the perfect place to create amazing and eye-catching designs as it is where guests will visit often. 
Take the chance to introduce a playful wallpaper or explore using strong colors and motifs in the powder room. Designers suggest that you can embrace a darker palette to create a moody vibe. Furthermore, you can also combine various patterned tiles that might seem contrasting, to leave an impression on viewers. 
Showers With The Best Of Both Worlds
There is a rising preference for bathrooms to have showers fitted with both overhead or wall-mounted showerheads along with hand-held ones. 
Showering should be an experience that turns your senses on, and having a range of choices to shower can do just that. You can use more than one type of showerhead for a gentle showering experience, much like standing in the rain, except you are getting cleaner. And for the icing on the cake, you can invest in some high-technology devices that let you command the strength of the water as well as the water temperature in preparation for the perfect bathing experience for you each time you take a bath. 
For those who wish to take "the best of both worlds" a step further, it is also an increasingly popular choice to have a separate shower along with a freestanding tub. The combination of these is sure to meet your demands of a beautiful yet relaxing spa-like bathroom right in your home. You can enjoy both an energizing bath in the day and a slow, comforting one night. If this is not the best way to relax, we don't know what is!
Now that you are equipped with the knowledge of these bathroom trends, go design the perfect bathroom for your home. Be sure to include all the much-needed features in your bathroom as well for maximum comfort; things like getting radiators for the bathroom will greatly improve your showering experience so be sure to check them out and all the best designing the bathroom of your dreams! 
Comments
comments