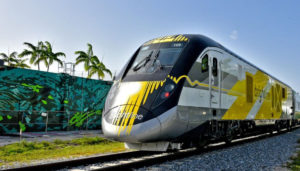 Sir Richard Branson might soon help build a new high-speed passenger rail line between Charlotte and Atlanta, transporting commuters at speeds upwards of 125 mph for relatively low fares.
The new line has just been proposed in Virgin Trains USA's IPO filing with the SEC.
The company is a strategic partnership between Miami-based Brightline Trains and Sir Richard Branson's Virgin Group.
"We have had a lot of fun and success creating innovative transport businesses that shake up markets and establish loyal followings. We transformed domestic air travel with Virgin America.  Tens of millions of Americans travel on the railways every day, and we have tried for over a decade to find an opportunity to provide them with that same excellent service experience," said Sir Richard Branson, founder of Virgin.  "Brightline is at the forefront of innovation in this market, and the ideal partner for Virgin to work with to alter perceptions and traveling habits across the United States."
America's first new major private passenger railroad in over 100 years launched their first service between Miami, Fort Lauderdale and West Palm Beach in May of this year, and they're now working on 2 additional lines between Orlando and Tampa and Las Vegas and southern California.
The partnership with Virgin will help them rapidly expand to a potential 8 new lines, including routes from Houston to Dallas, Atlanta to Charlotte, Chicago to St. Louis, LA to San Diego, Portland to Vancouver, San Antonio to Dallas, Houston to Austin, and Washington DC to Boston, according to their SEC filing;
Brightline's line between Miami and West Palm Beach currently travels at speeds up to 80 mph, but the new lines between Cocoe and Orlando and Las Vegas and Southern California will reach speeds upwards of 125 mph (201 km/h).
The proposed new line between Atlanta and Charlotte will likely maintain these high speeds, meaning that you might soon be able to inexpensively travel from Charlotte to Atlanta in under 2 hours.
What do you think about a new high-speed rail line between Atlanta and Charlotte? 
Comments
comments